Free Covid-19 Vaccine for All Adults Starting June 21: Everything You Need to Know | India News
NEW DELHI: The new central government policy for Covid-19 vaccination in the country will go into effect on June 21.
Earlier this month, Prime Minister Narendra Modi announced that the Center will take over the existing Covid vaccination campaign, which states have been running in part since May 1.
The Center's new policy came days after the Supreme Court criticized the ongoing vaccination campaign for the 18-44 age group, calling it "arbitrary and irrational."
Here's everything you need to know about the government's new vaccination policy:
-The Center will provide free vaccinations to the states for all citizens over 18 years of age. The Center will purchase 75 percent of total vaccine production from vaccine manufacturers and deliver it to state governments at no cost.
-No state government will have to spend anything on the vaccine.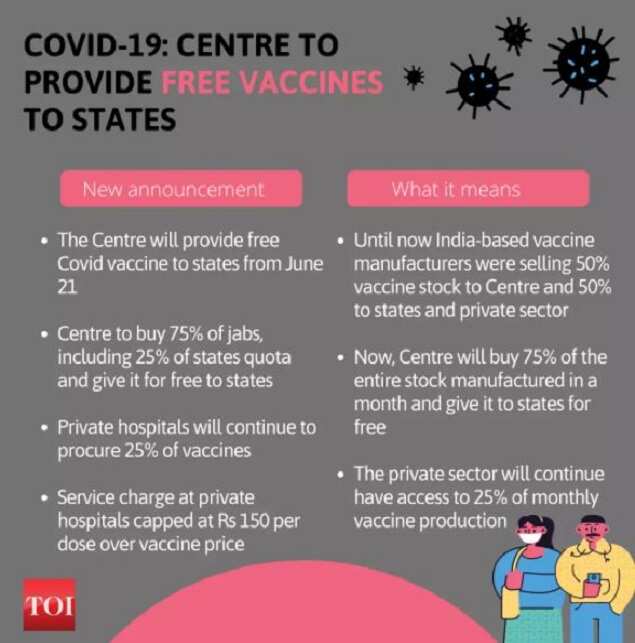 – Everyone 18+ in the country will receive the free vaccination at government facilities starting June 21 (several states were already giving free vaccinations to everyone in the 18-44 age group)
-Vaccine doses provided free of charge by the Center will be assigned to states / UTs based on criteria such as population, disease burden, and vaccination progress.
-Private sector hospitals will continue to purchase 25% of vaccines directly from manufacturers.
-The service charge for private hospitals will be limited to Rs 150 per dose on the fixed price of the vaccine.
-The monitoring task will be in the hands of the state governments.
-All government and private vaccination centers would also provide on-site registration facilities, available to both individuals and groups of individuals, for which a detailed procedure must be finalized and published by states / UT.
-States can also optimally use common service centers and call centers to facilitate pre-booking by citizens.