Supreme Court and government now oppose court reforms | India News
NEW DELHI: A confrontation between the Supreme Court and the Center has been brewing in recent weeks with the two constitutional entities closed, first due to the vaccination and pricing policies of Covid-19, and then on Thursday due to the enactment of the Ordinance. of Reform of the Court, which allegedly ignores the judgments of the higher court.
If a bench of Justices DY Chandrachud, LN Rao and SR Bhat had rated the Center's Covid-19 vaccination policy for the 18-44 age group as "arbitrary and irrational prima facie" in an order published Wednesday, Another bench of Justices Rao, Hemant Gupta and Bhat said on Thursday that the ordinance was a reflection of the Center's "recalcitrant and inflexible" attitude in attempting to overturn the mandate given by the SC.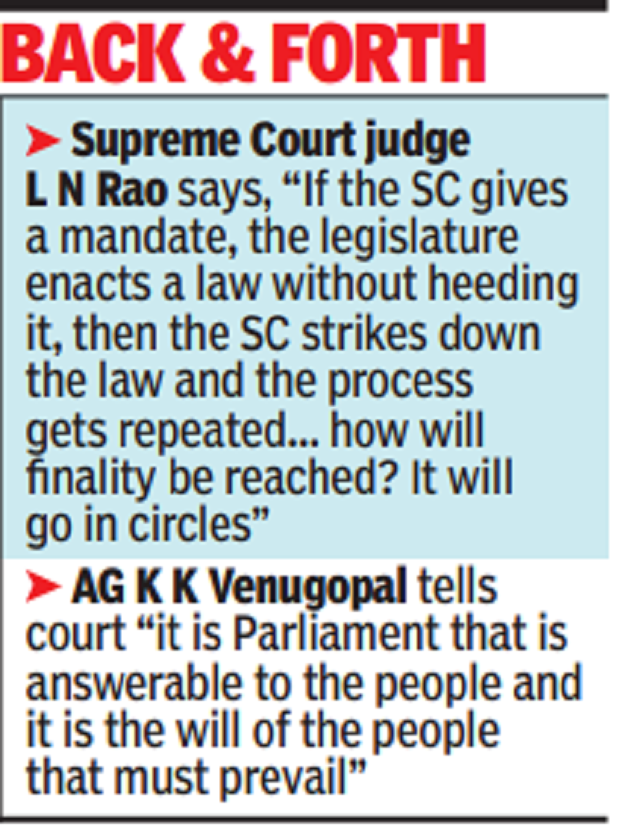 During the hearing on Covid-19 management issues on May 31, Attorney General Tushar Mehta repeatedly and firmly appealed to the SC not to intervene in the executive's policy domain seeking to modify policy frameworks. Mehta had said that the judiciary was prohibited from substituting its own for the executive's wisdom. The CS had admitted that policymaking was within the exclusive domain of the executive, but said it would not be a silent bystander when policies violated the constitutional rights of citizens.
On Thursday, the court of Justices Rao, Gupta and Bhat reserved its order on petitions challenging the constitutional validity of the Court Reform (Rationalization and Conditions of Service) Ordinance, 2021, which sought to defer the SC's mandate to a five-year term. to the presidents and members of the tribunals by prescribing a term of four years; it also set the age of eligibility at 50 years, overturning the court order that allowed attorneys with 10 years of experience to be in the consideration zone.
Justice Bhat asked, "Why does a recalcitrant executive keep passing laws as if Supreme Court rulings don't exist?" Attorney General KK Venugopal said it was Parliament's job to enact laws, as it was the SC to determine their constitutional validity. Judge Rao said: "If the CS gives a mandate, the legislature enacts a law without paying attention to it, then the CS repeals the law and the process repeats … how will the end be achieved? It will go around."
The AG said: "It is not that Parliament does not deliberate before enacting legislation. There is a whole process. In addition, several times, the opinions of the standing committee are also taken into account and then debated in the Chamber. Furthermore, it is Parliament that is accountable to the people and it is the will of the people that must prevail. It is the parliamentarians who face criticism, often in intemperate language, which the judges do not face ".
Judge Bhat said: "Each wing of the government can interpret the Constitution and no one violates its provisions at the international level. But does this argument mean that the interpretation of the Constitution by some 500 deputies in Parliament is more accurate than that of the SC seats comprising two or three judges? I disagree. I agree that judges must have self-control when interpreting the Constitution. But if Parliament is always right because it reflects the will of the people, then the SC will not be able to repeal any law promulgated by it. We understand that there are obvious lines that the court should not cross. "
The AG said the ordinance does not reflect any major changes, except reducing the term of the president and members to four years, instead of five as required by the SC. "How does a four or five year term affect the independence of the judiciary?" I ask.
"Just as the legislature or the executive cannot (meddle) in the jurisdiction and powers of the judiciary, so it is also beyond the jurisdiction of the judiciary to carve out the jurisdiction and powers of the legislature or the executive. A decision of the executive or legislature on what the term of a president or member of a court should be, or the retirement age of members, or the terms and conditions of service, are the exclusive competence of the legislature and the executive and Due to the doctrine of separation of powers, it is not open to judicial review unless it violates fundamental rights, "Venugopal said.
To sum it up, the Attorney General said: "Legislation is purely the purview of Parliament and so is the ordinance-making power of the executive, which is also part of the law-making power. In such a case, the court has no jurisdiction to order the legislature to pass a law on particular lines and / or in a particular way, as this would violate the doctrine of separation of powers. Forcing the legislature or the executive to make an ordinance to make a particular law is, in substance and effect, the exercise of legislative power that is beyond the jurisdiction of the courts. "
In what would harm the SC, the AG said: "Just as the courts decided by themselves that five years (tenure) would be appropriate, it would also be open to the executive to make an ordinance to maintain those four years with the right of reelection would be the appropriate rule. In such a case, the question of validating any law would not arise, since it is the exclusive competence of the legislature or the executive to decide what the mandate of a president or member of a court should be. "