CBSE, CISCE Scraps Class 12 Board Exams: Everything You Need To Know | India News
NEW DELHI: The government decided on Tuesday that the CBSE class XII board examinations would not be held this year in view of the uncertain conditions due to Covid-19.
The decision was made at a review meeting chaired by Prime Minister Narendra Modi regarding the CBSE class XII board exams. The government had canceled the CBSE Class 10 exams in early April.
Following the CBSE, the Council for School Certification Examinations of India (CISCE) also announced the cancellation of the Class 12 board exams. State boards are also expected to follow suit.
How will CBSE, CISCE tabulate the results of class 12?
The government said CBSE will take steps to compile the results of students in class XII according to "well-defined objective criteria" within a specified timeframe. The modalities will be announced in a couple of days.
Two options are being considered, according to official sources: The evaluation can be based on the results of the final exams of the three previous classes, that is, classes 9, 10 and 11.
The second option being considered is to give some weighting to the Class 10 board results and the Class 12 internal evaluations.
For students who want to take the class 12 board exams, the CBSE will make this option available, as the situation becomes auspicious.
Dr. G Immanuel, chairman of the CISCE board that announced the cancellation of the ISC Class 12 Board exams, said that the final decision on the collection of results has not yet been made.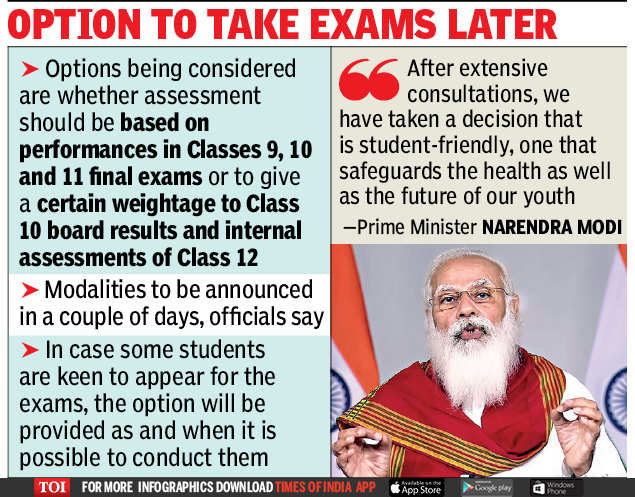 Will universities change the admissions process?

University of Delhi it will adjust its admissions process to the extraordinary situation without compromising merit, Acting Vice Chancellor PC Joshi said after the Class 12 board exams were canceled on Tuesday.
Joshi added that the Common access test to central universities (CUCET) can be a good method. "There will be some way to judge merit. These are extraordinary circumstances. The CUET can be a good method, as it will be based on panindian merit, "he said.
The acting VC said the University of Delhi will not compromise on merit. "We will adjust to the new situation and we will see what method will be developed. We will wait and see what is the criterion that the meetings come out for the evaluation of the students," he said.
(With inputs from agencies)