Army chief calls on troops in Kashmir to protect themselves against Pak-instigated terror | India News
NEW DELHI: Army Chief Gen. MM Naravane on Wednesday called on troops to be fully prepared to face all security challenges, including "Pakistan-instigated terror", during a two-day visit to Kashmir to assess the situation on the ground.
General Naravane, accompanied by the head of the Northern Command, Lieutenant General YK Joshi and the commander of the 15th Corps, Lieutenant General DP Pandey, visited different units and formations in the interior on Wednesday.
"The chief was briefed by local commanders about the existing security situation and the measures being taken to identify and attack the network of ground workers (OGW) involved in the radicalization and recruitment of young people into terrorist ranks," he said an official.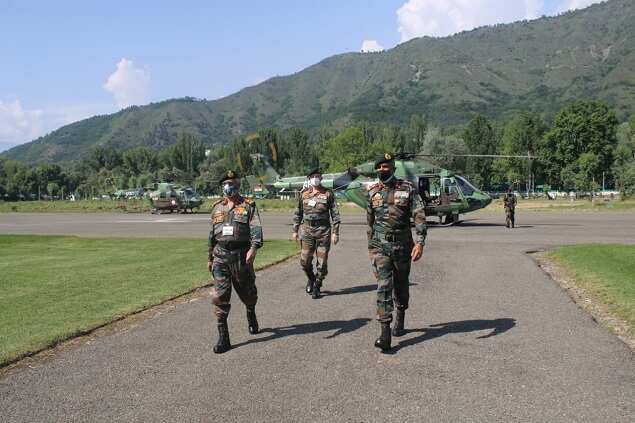 Efforts to prevent local recruitment and facilitate the surrender of local terrorists were also discussed. Lieutenant General Pandey also informed the chief about the general situation along the Line of Control (LdC), as well as the counterterrorism operations in the interior ", he added.
General Naravane said that the 'excellent synergy' exhibited by all sections of the civil administration, J&K Police, Central Police Armed Forces and other security agencies in projecting a 'whole of government' approach had yielded as a result an improvement in the security situation at UT.
"In the evening, General Naravane visited Lieutenant Governor Manoj Sinha at Raj Bhawan and discussed emerging challenges and the roadmap for long-term peace at J&K," the official said.
On Thursday, General Naravane will visit advanced areas along the 778 km long LoC amid the new border ceasefire with Pakistan since February. In a recent interview with TOI, he had said that while the ceasefire was "a good first step", Pakistan will have to take "tangible measures" against the terrorist infrastructure operating from its soil for the "normalization" of bilateral relations. .