The third wave of Covid could be as severe as the second: Report | India News
NEW DELHI: A third wave of Covid-19 could be as severe as the second wave and can last up to 98 days, an SBI report said on Tuesday.
Citing international experience, the SBI Ecowrap report estimated that the intensity of the third wave will not be much different from that of the second wave. However, he said deaths can be minimized with better preparation.
"The average duration of the third wave for the main countries is 98 days and that of the second wave is 108 days, with the peak of the third wave as a multiple of the second at 1.8 and the second wave as a multiple of the first. at 5.2 (for India it was at 4.2), "the report said.
The report comes as India prepares for a possible third wave of the pandemic.
The second wave of the pandemic, which is now on the wane, caused unprecedented devastation with single-day cases reaching up to 4.14 lakh. In May alone, India recorded more than 1 lakh of deaths due to Covid.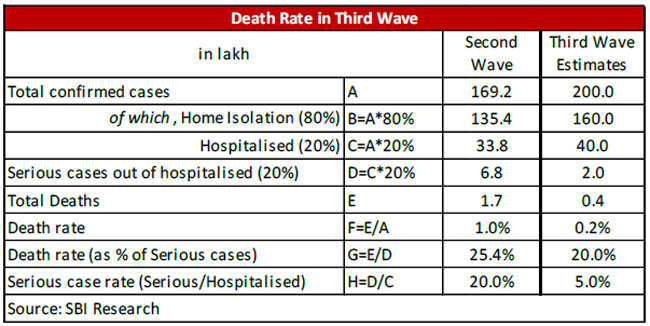 The report said that in the third wave, the total number of deaths can be reduced to 40,000 compared to 1.7 lakh seen during the second wave if severe cases decrease to 5%. In the second wave, severe cases reached 20% of all infections.
He added that this can be done by increasing the health infrastructure and rigorously expanding the vaccination campaign.
Currently, just over 12.3% of people have received at least one dose of the vaccine, while 3.27% have been fully vaccinated.
The government is targeting vaccinations of up to 1 crore per day by mid-July or early August.