First in 12 weeks, Covid deaths in India begin to fall | India News
NEW DELHI: India's painfully high death count in the second wave of the Covid pandemic is finally declining. In the week ending Sunday, deaths nationwide fell by 17%, the first decline in 12 weeks, even as the daily death toll fell below 3,000 after 34 days.
Meanwhile, the second wave is now receding in all Union states / territories except some in the Northeast and Ladakh. While new cases of the virus declined for the third week in a row, this week's figures showed the most complete decline yet, as infections had started to decline in Tamil Nadu, Andhra Pradesh, Odisha and Assam, states that had shown an upward trend until last week.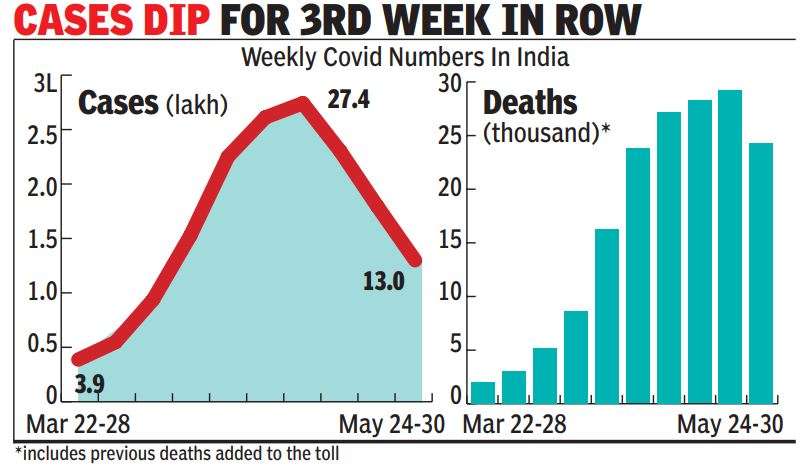 With 12.95 lakh of new infections recorded between May 24 and May 30, the weekly case count registered a 27% drop from the previous week, the steepest so far in the second wave.
Just as significant was the drop in deaths. India recorded 24,372 deaths between May 24 and May 30, a drop of almost 5,000 from the previous week's death toll of 29,331. These included previous deaths added to the number of victims in Maharashtra and Uttarakhand during this period.
Before this week, the Covid death toll had risen for 11 weeks in a row, as the second deadly wave left the country's health infrastructure completely overwhelmed. Weekly deaths had last seen a decline in the week of March 1-7. In the month of May alone, the number of Covid victims in the country has exceeded 1.15 lakh so far.
In another sign that the tide has turned, deaths reported Sunday fell below 3,000 for the first time since April 26. The country recorded 2,722 deaths, not counting the 412 previous deaths that Maharashtra added on Sunday, in addition to the daily figure of 402. The state has added about 6,000 deaths of the elderly in the last two weeks.
Meanwhile, 1,53,663 new cases were reported on Sunday, the lowest daily count in 50 days since 1.52 lakh of new infections were reported on April 10, according to TOI's Covid database. Daily cases in the country have fallen for the fourth day in a row after hitting this week's high of 2,12,083 on Wednesday.
In the weekly count, only five of the country's 36 states and UTs saw an increase in cases compared to the previous seven days. These states / UT were Sikkim, Manipur, Arunachal Pradesh, Mizoram and Ladakh. The drop in some other states, such as Assam and Tripura, was marginal, indicating that the pandemic continues to ravage the northeast region.