From 10,000 in 1999 to 6 in 2021: How India reduced cyclone deaths | India News
NEW DELHI: Since the 1999 super cyclone in Odisha that claimed more than 10,000 lives to Cyclone Yaas when casualties were limited to less than half a dozen, India appears to have made remarkable progress in disaster risk reduction (DRR).
The large-scale rescue and relief operation, with the cooperation of both the Center and the states, ensured the evacuation of more than 14 lakh people to safe havens, limiting casualties to Odisha and West Bengal, the two states that stood in the way. in the direct path of the severe cyclone that caused a landfall on Wednesday.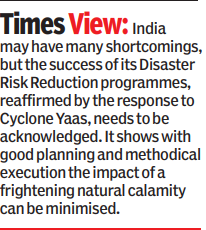 This is seen as the result of a rigorous exercise and strengthening of the DRR mechanism in recent years, a perfect coordination between central and state agencies.
There has been a significant increase in funding for disaster risk reduction activities, from an average of Rs 25,000 crore to Rs 30,000 for five years in the past decade to almost Rs 30,000 crore per year for the past two consecutive years.
More than eight lakh people were evacuated in West Bengal and six lakh in Odisha in recent days to evade Yaas's fury.