Covid-19: States Prepare to Protect Children as Third Wave Fear Lurks | India News
As states continue to grapple with the severity of the second wave of Covid, the specter of a possible third wave has been haunting the country and many states have begun planning and even implementing infrastructure. This time the focus is on the children, fearing that they may be the hardest hit.
From increasing pediatric beds to prioritizing vaccination for parents of children under 12 and formulating a specific protocol for children, states are concentrating heavily on pediatric Covid care alongside other measures such as the installation of oxygen plants and the establishment of more testing laboratories. The Uttar Pradesh government recently announced that priority would be given to parents of children under 12 years of age in vaccination. Goa wants to prioritize vaccination for nursing mothers with children under the age of two.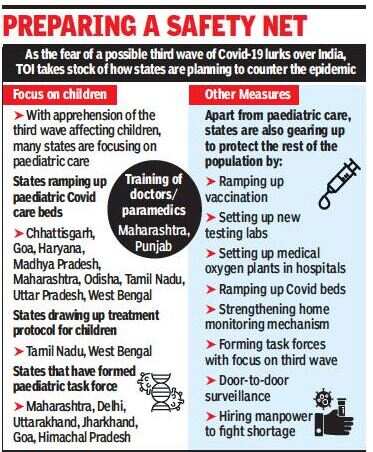 Most states are adding or allocating beds for Covid pediatric care, including pediatric intensive care units (PICU), neonatal intensive care units (NICU), and neonatal sick care units (SNCU). Show this: Maharashtra, where the second wave took a heavy toll, has planned to increase pediatric Covid beds from the current 600 to 2,300. BMC Commissioner Suresh Kakani said 500 beds will be added in Mumbai alone.
In Uttarakhand, DRDO, which is establishing two hospitals, has planned a facility to house mothers of children affected by Covid in pediatric wards. Odisha has also decided to allow one of the parents to accompany the child to the hospital. States such as West Bengal and Tamil Nadu have developed specific pediatric treatment protocols. Many states are creating an expert panel and task force to protect children. The Delhi government is forming a special task force made up of pediatricians, experts and senior EEI officials. Maharashtra, Uttarakhand, Himachal Pradesh and Goa have also formed a task force for pediatric cases.
The Jharkhand government recently approached experts in Delhi and Bengaluru for suggestions to combat Covid among stunted and anemic children in the state, which has 43% of its population in the under 18 category. While a large part of the efforts to counter the potential third wave is focused on children, states are also increasing health infrastructure.