With 4.4 Lakh Patients, Karnataka Leads Active Covid Cases | India News
NEW DELHI: Karnataka with 4.4 lakh of active Covid cases is at the top among all states with the highest number of active coronavirus cases in the country. Maharashtra is second with 3.3 lakh of active cases, followed by Tamil Nadu with 3 lakh, Kerala (2.6 lakh) and Andhra Pradesh (2 lakh).
Many other states have reported a significant drop in daily cases and, along with a high recovery rate, the total number of cases has dropped across the country, from a peak of active cases of 37 lakh to 26 lakh on Tuesday. West Bengal, Odisha and Rajasthan have 1 lakh of active cases each.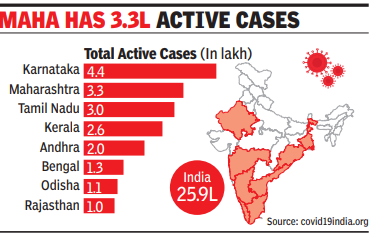 States that have reduced their number of active cases include UP, Gujarat, Chhattisgarh, Punjab, and MP. All of them have reduced it between 55,000 and 77,000 cases each. Active cases in Delhi have dropped to 21,700, which is also the result of its highest recovery rate in the country at 97%.
Until the second week of May, Karnataka had a very high positivity rate (total confirmed cases per 100 tests) indicating that fewer tests were conducted in the state compared to a total of positive cases. During the fortnight of May 4-17, compared to the previous fortnight, Karnataka had jumped eight places to become the second state after Goa with a dangerously high infection rate.
Karnataka also had the highest number of active Covid cases (5.75 lakh) in the country on May 19, ahead of 4.19 lakh for Maharashtra and 3.47 lakh for Kerala.