Liquid oxygen production rises 10 times as government prepares for third wave | India News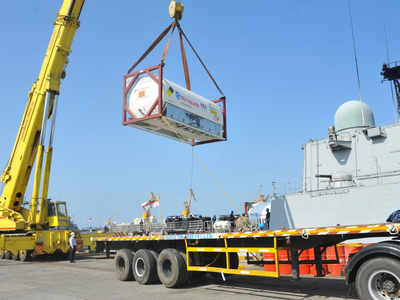 INS Tarkash arrives at the Naval Pier in Mumbai on Wednesday May 12, 2021 with two cryogenic liquid medical oxygen containers of 20MT each
NEW DELHI: Having led the industry to increase liquid oxygen production 10 times, the government is seeking to establish more than 1,100 pressure swing adsorption systems (PSA) plants in July as part of preparations for a possible third wave of Covid-19. Data available with the government showed that compared to an average daily production of around 900 metric tons of liquid medical oxygen (LMO) in 2019, production was estimated at around 9,300 MT last week, as the plants of steel cut production from around 1,250 MT per day in early April to 4,000 MT.
While this was the immediate move to meet Covid patient requirements, other steps are also being followed as a medium and long-term solution to make the response faster. For example, the 160 ISO tankers that have been imported or converted (from LNG tanker trucks) contribute to faster transportation. The capacity of cryogenic tanks has increased by more than 60% from 1,040 tankers in March, capable of handling 12,480 MT, to 1,681 tankers that can handle 23,056 MT of LMOs. The storage capacity of these tanks installed in hospitals across India has also increased from 609 (with a capacity of 5,959 kilo liters) at the end of March to more than 901 (9,233 KL capacity) two weeks ago.
While 77 out of 162 sanctioned PSA oxygen plants under PM cares have been launched, it is proposed that the remaining 85 be installed in July. If things go according to plan, the 1,051 additional PSA plants announced by the government in March and April should also be installed in July, government sources said. These plants are being purchased through DRDO and CSIR with state oil companies contributing 93 plants under their CSR plans.
The government has tried to harness the full force of the railways and Indian air force to transport oxygen over time over long distances.
FacebookTwitterLinkedinE-mail