NDRF, military on alert as India prepares for Yaas | India News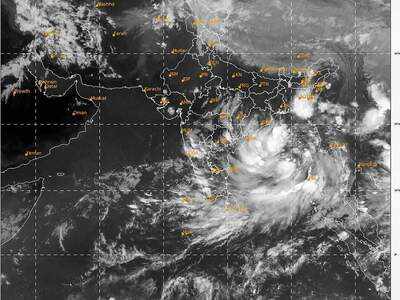 Satellite image of Cyclone Yaas approaching the eastern coast of India
NEW DELHI: Cyclone "Yaas" is expected to make landfall between Paradip and Sagar Islands as a 'very severe cyclonic storm' with a wind speed of 155-165 km / h with gusts of 185 km / h on Wednesday afternoon. night, causing heavy rains in the coastal districts of west bengal and North Odisha.
The impact in Kolkata could be substantial, starting Tuesday morning, with the heaviest rain forecast for Wednesday. Releasing its observed and predicted track, the IM D on Sunday it warned of storm surges of approximately 2-4m in the coastal areas of both states.
The National Disaster Response Force has placed 46 teams equipped with boats, tree cutters, telecommunication equipments etc in four coastal / UT states: West Bengal, Odisha, Andhra Pradesh, Tamil nadu Y Puducherry – for relief and rescue operations. Additionally, 13 teams will be airlifted for deployment on Sunday.
Prime Minister Modi reviewed the readiness of states and central agencies to deal with the situation arising from Cyclone Yaas, a name given by Oman.
The Prime Minister ordered senior officials to work closely with states to ensure the safe evacuation of people from high-risk areas. He also instructed all departments involved to ensure the timely evacuation of those involved in offshore activities, a statement from the Prime Minister's Office (PMO) said.
Modi, during the review meeting, spoke about the need to ensure that the duration of power outages and the communication network is minimal and restored quickly, and asked officials to "ensure proper coordination and planning with governments. state to guarantee that there are no interruptions in the treatment of Covid and vaccination in hospitals ".
"The Indian Coast Guard and the Navy they have deployed ships and helicopters for relief, search and rescue operations. Units from the Air Force and Army Engineer Task Force, with boats and rescue equipment, are on standby for deployment. Seven ships with humanitarian assistance and relief units are on standby along the western coast, "an official statement said.
In issuing its advisory for coastal areas, IMD appealed to fishermen deep in the east-central sea and northeast of the Bay of Bengal to return to shore.
"The escalation and likely movement of the system is under continuous surveillance and concerned state governments are being regularly informed," IMD said.
FacebookTwitterLinkedinE-mail