The first Oxygen Express run by female pilots registers a high speed of 80 km / h | India News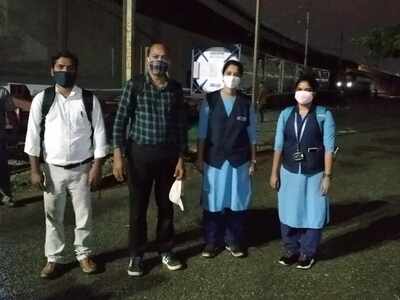 NEW DELHI: The Indian railways' First Express oxygen The train piloted by two female pilots arrived in Bangalore on Friday night with 120 tons of medical oxygen of Jamshedpur. They covered the last 120 km stretch in an hour and a half, with an average speed of 80 km / h.
The train had left Tatanagar in Jharkhand with six liquid medical oxygen tankers. This was the seventh Oxygen Express to Karnataka.
"We started our journey from Jolarpettai in Tamil Nadu and drove to White field in Bangalore. It was a completely different experience as we got all the clear signals on this stage and were able to reach such good speed. It was raining and it was a nice experience, "assistant locomotive pilot Aparna RP told TOI, who has been at this job for less than a year.
Loco's driver Sireesha Gajini also said the experience was different as they didn't have to wait anywhere. When other good trains drive, stopping at stations and at different points is quite common. But due to perfect coordination, Oxygen Express trains reach destinations in less time. "The railways have always encouraged the participation of women and this is one of those opportunities for us. We are proud to do our bit, "he said.
Indian Railways has opted for meticulous planning when running such trains to ensure they reach destinations on time with urgency in mind. Since these trains run nonstop unlike tanker trucks, this is a more reliable mode of transporting LMO for longer distances.
The Railways Ministry said on Saturday they have delivered nearly 14,500 tons of LMOs in more than 884 tanker trucks to various states. The LMOs carried by these express trains have reached 13 states so far. The railroads had started the Oxygen Express trains on April 24 when a train carrying 126 tons had reached Maharashtra.
FacebookTwitterLinkedinE-mail