Terrorism Suspect Arrested For Explosion In Chennai | India News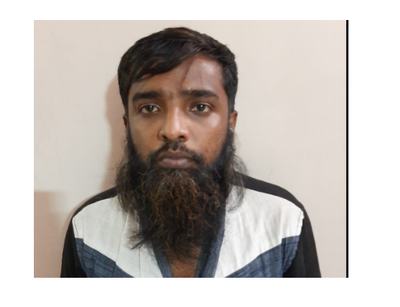 Rafique
CHENNAI: City police arrested a terrorism suspect involved in the 2014 MGR bomb explosion Central Chennai train station that killed a software engineer.
A team from the Periamet police station led by an inspector focused on the suspect, identified as Rafique, 38, in connection with a recent robbery case. Subsequent investigations revealed that Rafique is still an active member of Al-Umma, a banned Muslim group and that the National Investigation Agency (NIA) was looking for him in connection with a bomb explosion case in 2014.
Chennai police informed NIA officials. A team from the fundamentalist unit of the special branch CID he was questioning Rafique in a secluded place.
A high-ranking police officer said that Rafique had started his career as a counterfeit currency circulator in the city. He was connected to many anti-social and fundamentalists based in the Malda district of West Bengal.
A police officer, who caught Rafique for smuggling counterfeit Indian banknotes into Kodungaiyur A decade ago, he said that he had visited Bangladesh and even Pakistan to purchase these counterfeit Indian banknotes.
On May 5, Rafique and his partner Yasin seized Rs 7.5 lakh and 282 grams of gold, worth Rs 9 lakh, from a jewelry store owner, identified as Suraj. The robbery occurred when Suraj was returning from his jewelry store. The duo took aim at Suraj as he was riding his two-wheeler near the Allikulam market behind the Periamet police station.
The Periamet police caught Yasin with the help of the Closed TV circuit camera footage a few days ago. Based on his confession, the police caught Rafique from a hideout in Periamet.
The explosion occurred on a Bengaluru-Guwahati express train that arrived at Chennai Central Railway Station around 7 am on May 1, 2014. The train was parked on platform number 9 when the bombs exploded in the S- carriages. 4 and S-5. Software engineer Swathi, 24, was killed instantly when one of the bombs exploded under her seat and 14 other passengers were injured.
The NIA arrested the suspects in the case who were also involved in another terrorism case. They were housed in a Madhya Pradesh jail. Rafique had remained elusive.
FacebookTwitterLinkedinE-mail