7 Budgam DDC members want to resign: Mehbooba Mufti | India News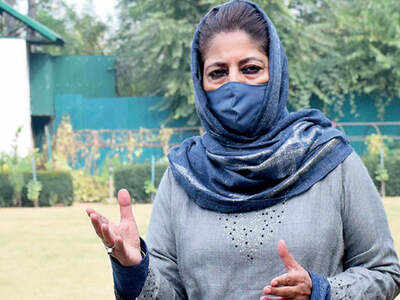 The head of the PDP, Mehbooba Mufti (File photo)
SRINAGAR: Former Chief Minister of J&K and PDP boss Mehbooba Mufti on Saturday he claimed that the seven-district development council (DDC) members, including some independents, of Budgam The central Kashmir district has offered to resign because they are not allowed to leave the "safe houses" provided by the Union territory administration, even to tour their constituencies and visit their families.
Tweeting a video, Mehbooba He said: "The detention of Budgam DDC members for seven months in the name of security defeats the purpose of their election. Held against their will, the administration has also prevented them from touring their constituencies. They are so fed up that they have offered to resign (sic) ".
The DDC members, who want to resign, are also seen in the video clip, saying that they have been "detained" for the past seven months.
"The government has no plans for us. They looked for our work plan and we have already presented it, but so far we have not been given a penny ", says one of them in the video.
Many DDC members have already given in writing that they do not need security and want to live with their families. "Our security should be removed, as that will save the government money. We can't even visit our families and our children's education has also suffered a lot, "says another DDC member.
The J&K administration has provided accommodation for DDC members in secure areas in their respective districts to prevent any terrorist attacks against them. However, some of the members resent the move and want to stay in their respective homes.
FacebookTwitterLinkedinE-mail