IAF pilot, married a year ago, dies in MiG crash | India News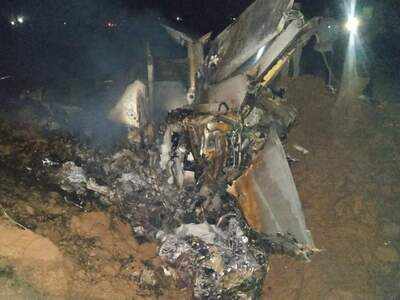 The MiG-21 that crashed on May 21
NEW DELHI: In another MiG-21 crash in the IAF, a young pilot was killed when his fighter fell near Moga in Punjab late Thursday, reinforcing the urgent need to retire these old single-engine aircraft. squad leader Abhinav choudhary (28), who hailed from Baghpat-Meerut and had been married just over a year ago, had taken off in his MiG-21 'Bison' from the Suratgarh air base in Rajasthan for a "routine" night combat training outing.
The young fighter pilot was returning to the air base when his MiG-21 apparently developed a technical problem and crashed, and his body was found about 2 km from the crash site. The IAF ordered a court of inquiry to establish the exact reason behind the accident, an official said. This is the third MiG-21 'Bison' crash this year, with the first taking place near Suratgarh in January.
Old Soviet-sourced MiG-21s, the first truly supersonic fighters to be installed by the IAF in 1963, have had a high accident rate over the years. Of the 872 MiG-21s phased in by the IAF, more than 400 have crashed since 1971-72, killing more than 200 pilots and nearly 50 civilians on the ground, as previously reported by TOI.
FacebookTwitterLinkedinE-mail