Cyclone Tauktae Wreaks Havoc in Kerala, Kills 2 | India News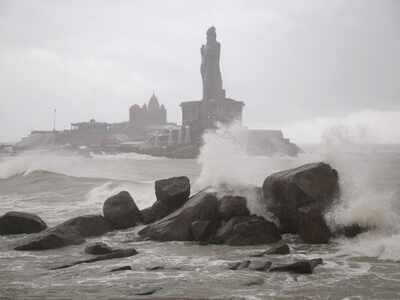 KOCHI / THIRUVANANTHAPURAM: Heavy rains accompanied by strong winds and large tidal waves wreaked havoc on Kerala and it took two lives even though Cyclone Tauktae moved north from its coast. On Karnataka, only the coastal districts of Dakshina Kannada and Udupi felt the impact of Tauktae.
All districts received very heavy rains that flooded many low-lying areas, submerged roads, damaged houses and uprooted trees. Power lines were broken in several areas. According to the revenue department, 38 houses were damaged.
The two rain-related deaths were due to Ernakulam and Kozhikode.
Nine districts, including Ernakulam, Idukki, Thrissur, Palakkad, Malappuram, Wayanad, Kozhikode, Kannur and Kasaragod were on red alert. Heavy rains will continue on Sunday. Meanwhile, IM D has removed all red alerts and only Ernakulam, Idukki and Malappuram they are on orange alert. CM Pinarayi Vijayan He said 71 relief camps have been established for 2,094 people.
In Karnataka, heavy rains and gales were followed by rough seas that eroded the coastline. Many houses in the Udupi and Dakshina Kannada districts were flooded.
Cyclone Tauktae is likely to further intensify into a very severe cyclonic storm and hit the coast of Gujarat on the morning of May 18.
FacebookTwitterLinkedinE-mail