Prioritizing live TV broadcast of SC proceedings: Chief Justice NV Ramana | India News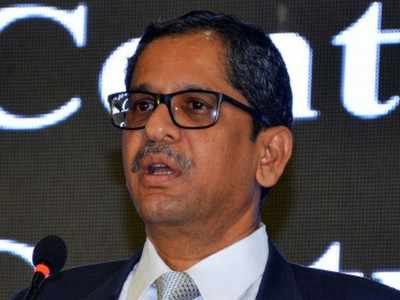 NEW DELHI: Chief Justice NV Ramana on Thursday he said he was prioritizing the start of the live broadcast of Supreme Court procedures such as public access to court hearings engender transparency which is vital to the health of any institution in a democracy.
Launch of a mobile app for media staff to view SC procedures, CJI Raman and the judges AM Khanwilkar, DY Chandrachud Y Hemant gupta They were unanimous in that the access of the media and the public to the judicial procedures infused transparency in the operation of the institution.
The CJI He said: "I am actively considering the proposal to broadcast the Supreme Court proceedings live. However, before taking concrete steps in this regard, I plan to seek a general consensus among my colleagues in court. "
In a landmark ruling in the 'Swapnil Tripathi' case, a bench of three SC judges on September 26, 2018 agreed to the live broadcast of the high court hearings and established guidelines for their gradual commencement. The SC had also said that the live broadcast should be delayed in time and that the court would have the right to stop the broadcast if any adverse incident occurred in the courtroom. Judges Khanwilkar and Chandrachud they were part of the three-judge tribunal and had written separate but concurrent rulings.
On Thursday, CJI Ramana said: "Transparency is a time-honored principle when it comes to the judicial process in our country. Hearings on cases have always been held in public courtrooms, and access is allowed not only to lawyers and litigants in particular, but also the general public.The only restrictions that were previously imposed were for reasons of space and security.
FacebookTwitterLinkedinE-mail