J&K: BSF recovers AK-47, ammunition dropped by drone at international border | India News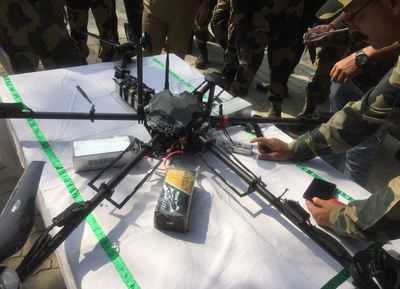 Stock Photo
The Border security force (BSF) recovered an AK-47 rifle, a 9mm pistol with a magazine and 15 rounds fired by a Pakistani drone in the Samba sector of Jammu on Friday morning, authorities reported.
"On specific information from BSF on the crossing of arms / ammunition via drones from the Samba border area. According to contributions, BSF troops carried out a search operation in the general area of ​​the Samba sector on May 14. At approximately 11.30 am, BSF troops recovered an item wrapped in a yellow polythene bag in a field. After taking all precautionary measures, the troops opened the wrapped package and found an AK- 47, a pistol, a magazine, 15 9mm cartridges, a wooden frame (used to attach the payload with drone) and the wrapping material. The site was about 250 meters from the international border within Indian territory. " read a statement from BSF.
"The efforts of the BSF alert troops deployed in the multi-tiered network have once again resulted in the neutralization of the Pakistani ANSA's activity designs with deep collusion from the Pakistani Rangers. This is the The same area where a tunnel was detected on November 22, 2020 and a Pakistani intruder was killed on May 5, 2021. In this regard, on June 20, 2020, BSF troops neutralized a Hexacopter Pak in the area of Samba / Kathua and recovered a large amount of weapons / ammunition and explosives, "he adds.
IG BSF Jammu NS Jamwal congratulated the alert BSF troops for this great achievement which again thwarted Pakistan's nefarious motive and said BSF is always alert and vigilant at the International Border 24×7 to thwart Pakistan's nefarious designs.
FacebookTwitterLinkedinE-mail