India reports more than 3.62 lakh of new Covid-19 cases, 4,120 deaths in the last 24 hours | India News
NEW DELHI: India's daily Covid-19 case count surpassed the 3.5 lakh mark on Thursday after a two-day low, even as the country recorded more than 4,000 deaths for the second day in a row.
With 3.62,727 new Covid-19 cases in the last 24 hours, India's total case burden is now 2,37,03,665, according to Union Health Ministry data updated at 8:00 a.m. .
Meanwhile, the death count continued to rise with 4,120 deaths in the past 24 hours, bringing India's death count to 2,58,317, according to ministry data.
Active cases have increased to 37,10,525, which represents 15.65% of all infections. The national Covid-19 recovery rate has improved to 83.26 percent, updated data at 8 a.m. showed.
The number of people who have recovered from the disease rose to 1,97,34,823, while the fatality rate was recorded at 1.09 percent, according to the data.
Comparable international data compiled by WHO shows that for three consecutive days India has remained the largest contributor to the global burden of new cases.
Since May 10, the new cases reported in India have remained at more than 50% of the total cases in the world. This means that the combined total of new cases reported in the rest of the world is now less than the new cases reported in India.
Coronavirus Live Updates
In the past three days, more than a third of global deaths have also been reported in India.
The data also shows that India is currently by far the worst affected country in the world in both COVID cases and deaths.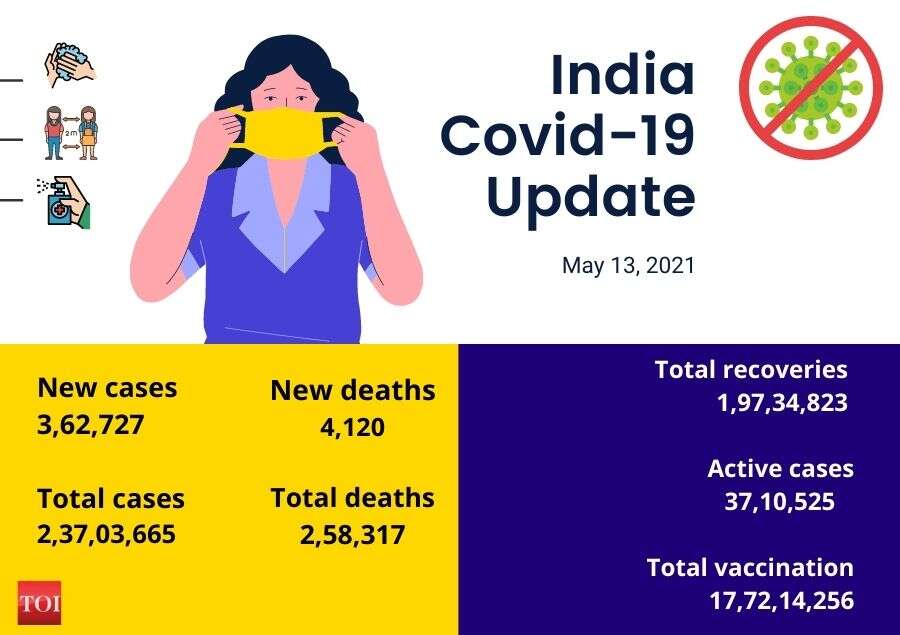 While recent cases reached 3.5 lakh in India, Brazil, the world's second worst in daily cases, reported 25,200 new infections. The count was 22,261 for the United States and just over 18,000 for France and Iran. Many states in India are reporting more cases than these countries.
While daily deaths passed the 4,000 mark in India, the latest 'new deaths' data for any other country has not passed the 1,000 mark.
(With inputs from agencies)