Private hospitals must obtain Tocilizumab from state governments | India News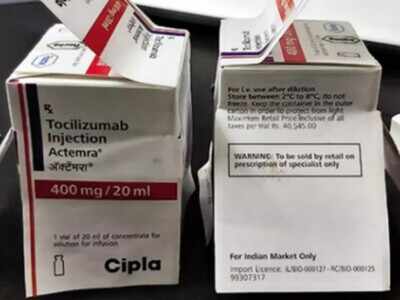 Image used for representative purposes
NEW DELHI: One day after India imported 50,000 vials of Tocilizumab, a key Covid-19 drug manufactured by the Swiss pharmaceutical company Roche, the Center has issued a strict warning saying that private hospitals will have to obtain the drug only from state governments for all patients who need it urgently.
"A separate quantity of tocilizumab is not being assigned directly to private hospitals," the order said. Until now, private hospitals had been asking patients and their families to organize Tocilizumab, a drug used to control inflammation markers and the cytokine storm. The cytokine storm is an autoimmune response of the body triggered by the Covid virus where the body begins to attack its own cells and tissues rather than simply fighting the virus.
But the availability of this crucial drug has become a concern for India as it grapples with the second wave of the pandemic. Officials told TOI that Maharashtra You will get the maximum number of vials, 6,380, out of a total of 45,000, each with a dose of 80 mg. The next highest allocation is for Karnataka with 6,150 vials followed by Kerala (4,500), UP (2,420) and Rajasthan (2,185). Delhi will receive an additional 980 vials.
FacebookTwitterLinkedinE-mail