"Deeply concerned" about fighting in West Asia: India | India News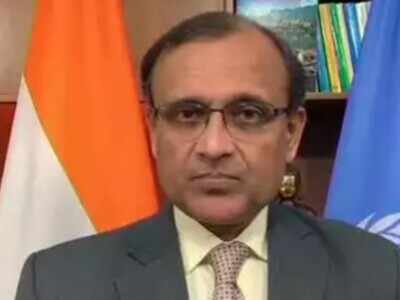 File photo of the Permanent Representative of India to the UN, Ambassador TS Tirumurti
NEW DELHI: Amid the worst Israeli-Palestinian violence in years, India expressed deep concern over the clashes in Jerusalemthe Temple Mount and the eviction of Palestinians in the Sheikh Jarrah and Silwan neighborhoods. The government also asked both parties to do nothing to change the status quo on the ground.
Permanent Representative of India to the UN, Ambassador TS Tirumurti tweeted that at the UN Security Council Meeting on Tuesday about the escalation in East Jerusalem, he said India was "deeply concerned about the clashes and violence in Haram Al Sharif / Temple Mount" and "equally concerned about the evictions in the Sheikh Jarrah and Silwan neighborhoods." .
He said India called on both sides to avoid changing the status quo on the ground. He added that the old city is also home to Al Zawiyya Al Hindiyya – The Indian Hospice.
India also condemned the rocket fire LoopTirumurti tweeted. A 30 year old Indian woman in IsraelSoumya Santosh was killed in a rocket attack by Palestinian militants from Gaza, according to officials. Junior Minister (MEA) V Muraleedharan said on Wednesday that he had spoken with members of the woman's family and assured them of all help. "We have condemned these attacks and the violence in Jerusalem, and we have called on both sides for restraint," he said.
India also urged all parties to restrain and adhere to Security Council resolution 2334, which reaffirms that "the establishment by Israel of settlements in the Palestinian territory occupied since 1967, including East Jerusalem, has no legal validity and constitutes a flagrant violation of international law and a major obstacle to the achievement of a two-state solution and a just, lasting and comprehensive peace ".
The resolution also "reiterates its demand that Israel completely cease all settlement activities in the occupied Palestinian territory, including East Jerusalem, and that it fully respect all its legal obligations in this regard." Tirumurti also stressed the need to immediately resume direct peace talks and a commitment to a two-state solution.
FacebookTwitterLinkedinE-mail