"Acquire vaccines centrally from all sources": 12 opposition leaders write to Prime Minister Modi | India News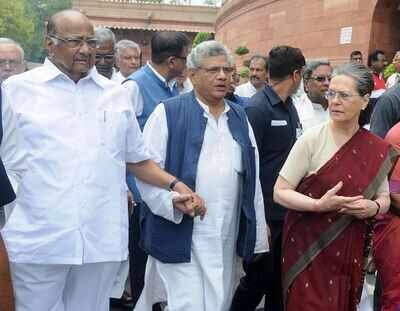 Sharad Pawar, Sitaram Yechury and Sonia Gandhi are among the opposition leaders who have written the joint letter to the Prime Minister.
NEW DELHI: Centralized procurement of vaccines from all available sources and halting construction of the large Central Vista project are among the suggestions made by the leaders of the twelve main opposition parties in a letter to Prime Minister Narendra Modi.
In the joint letter, the leaders alleged that the government has been consistently ignored or rejected previous suggestions from the opposition.
Signatories to the letter include Sonia Gandhi (Congress), Sharad Pawar (NCP), Uddhav Thackeray (Shiv Sena), Mamata Banerjee (TMC), MK Stalin (DMK) and Sitaram Yechury (CPM).
Some of the key suggestions from the letter include:
* Centralized procurement of vaccines from all available sources, globally and nationally
* Free, universal mass vaccination throughout the country should begin immediately.
* Invoke compulsory licenses to expand national vaccine production.
* Spend budget allocation of Rs. 35 billion rupees for vaccines
* Stop construction under the Central Vista project and divert money for the purchase of oxygen and vaccines.
* Free distribution of food grains to those in need.
The leaders also regretted that the fact that the Center ignored the opposition's suggestions has contributed to aggravating the Covid situation in the country.
Other signatories to the letter are HD Deve Gowda (JDS), Hemant Soren (JMM,) Farooq Abdullah (JKPA), Akhilesh Yadav (SP). Tejashwi Yadav (RJD) and D Raja (CPI).
FacebookTwitterLinkedinE-mail