Central Vista Project: Delhi High Court to Examine Petition to Stop Work at Central Vista | India News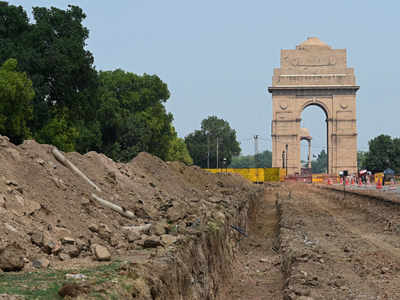 NEW DELHI: The Delhi High Court agreed to examine a petition Tuesday for instructions to halt or suspend all construction activity for the Central Vista Avenue Redevelopment Project as the current pandemic continues.
The petition cites orders issued by the Delhi Disaster Management Authority (DDMA) during the subsistence of the peak phase of the pandemic.
When appearing before the petitioners, the main defender Siddharth Luthra raised the matter and requested an early hearing of the case, which was scheduled for May 17 for a detailed hearing.
Central View Project threatening lives: supplication
A bench of judges DN Patel and Jasmeet Singh on Monday asked top defender Siddharth Luthra to submit a request and said they would address it on Tuesday. Luthra also informed the bank about the Supreme Court order in which the high court last week urged the Delhi High Court to consider the Public interest litigation (PIL) led by petitioner Anya Malhotra and Sohail Hashmi seeking a suspension in the construction works of the Central Vista project in New Delhi amid the prevailing condition of coronavirus cases across the country.
The statement questions ongoing construction activity by the Central Vista Redevelopment Project designated as the 'Central Vista Avenue Redevelopment Project' during the pandemic, arguing that Center and CPWD's relentless, unconscious and reckless act of carrying out this project in a manner that poses a threat to the lives of the citizens of Delhi and beyond, including the lives of the workforce / manpower involved in the project. And it has the potential to be a super spreader. It alleges that the measure is also a clear violation and violation of the orders approved by the Disaster Management Authority of Delhi.
The petitioners have argued that at a time when the city of Delhi is dealing with a devastating coronavirus outbreak and when all efforts must be to control the spiraling situation, the government has wrongly said that the project constitutes an "essential service" simply because some executive ordered the contractual term must be met.
Additional Attorney General Chetan Sharma who appeared for the Center indicated that the government is ready to present a detailed response to the statement it has opposed.
FacebookTwitterLinkedinE-mail