18 states report a decrease in Covid-19 cases; figures increase in 16 states | India News
NEW DELHI: After days of unfolding horror unleashed by the second wave of Covid, there is a glimmer of hope.
India is finally seeing an early trend of decline in new cases and also in the number of deaths due to the virus, according to the government.
And this decline is being led by states that have endured the brunt of the second wave of Covid so far.
Maharashtra, Uttar Pradesh, Delhi, Rajasthan, Chhattisgarh, Bihar, Gujarat, Madhya Pradesh, and Telangana are among the 18 states and territories in the Union showing a continued plateau or decline in daily new Covid-19 cases.
However, the relief is partial.
There are a number of states and cities that are showing a worrying upward trend.
Karnataka, Kerala, Tamil Nadu, West Bengal, Punjab, Assam, Odisha, Himachal Pradesh, Meghalaya and Tripura are among the 16 states and territories in the Union showing a continued increasing trend in daily new Covid-19 cases, according to the center.
Here are the main developments of the day: –
Recoveries outnumber new cases in India after 61 days
For the first time in 61 days, recoveries outnumbered new Covid cases in the past 24 hours. In the past 24 hours, India reported 3,29,942 new cases, while 3,56,082 people recovered from the disease during the same time period.
India's cumulative recoveries stood at 1.90.27.304 on Tuesday, with a national recovery rate of 82.75 percent.
182 districts show a decrease in the positivity rate week by week
The number of districts with a weekly increase in weekly testing and a decrease in the positivity rate has increased from 73 (April 15-21) to 182 (April 29-May 5)
Districts showing a steady decline in cases since the last two weeks include Pune, Nagpur, Palghar and Nashik districts of Maharashtra; Lucknow, Varanasi, Kanpur Nagar (Uttar Pradesh); Bhopal, Gwalior (Madhya Pradesh); Surat (Gujarat); Patna (Bihar); Ranchi (Jharkhand); Raipur, Durg (Chhattisgarh); and Kota (Rajasthan).
The districts showing a steady increase in cases since the last two weeks are Bengaluru Urban and Muysuru in Karnataka; Chennai, Chengalpattu and Thiruvallur in Tamil Nadu; Ernakulam and Malappuram in Kerala; 24 North Paraganas and Calcutta in West Bengal; Jaipur in Rajasthan; Dehradun in Uttarakhand; East Godavari and Visakhapatanam in Andhra Pradesh; Satara in Maharashtra; and Khordha in Odisha.
24.44 percent of the total active cases in the country have been reported in 10 districts, including Bengaluru Urban, Pune, Delhi, Ernakulam, Nagpur, Ahmedabad, Thrissur, Jaipur, Kozhikode and Mumbai, according to the Ministry of Health of the Union.
Locals go global to vaccine as the shortage continues
Delhi and Karnataka joined many other states in declaring their intention to launch a global tender to secure the vaccine for their residents. Earlier, the governments of Maharashtra, Andhra Pradesh and UP also said they are seeking to obtain vaccines to inoculate their residents as India battles the second wave of the coronavirus.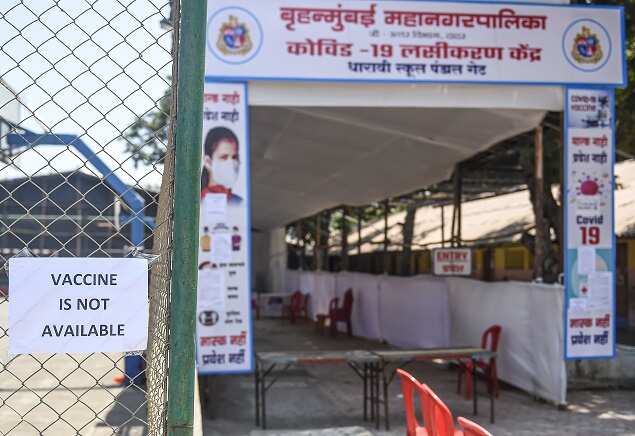 A notice saying 'Vaccine is not available' posted at a Covid-19 vaccination center after vaccination was stopped due to supply shortages, at Dharavi in ​​Mumbai. (PTI)
26 states have a positivity rate above 15%, 42% districts above the national average: government
The national Covid-19 positivity rate is around 21 percent and approximately 42 percent (310/734) of districts report a positivity rate higher than the national average.
Thirteen states have more than 1 lakh of active Covid-19 cases each and 26 states have a positivity rate of more than 15 percent.
6 states have between 50,000 and 1 lakh of active cases and 17 states have less than 50,000 active cases.
Those Eligible for Second Dose of Covid-19 Vaccine Should Take Priority: Government
The Union government insisted on Tuesday that priority should be given to those eligible for the second dose of the Covid-19 vaccine and that vaccination waste should be minimized.
In this sense, states can reserve at least 70 percent of the vaccines supplied by the Government of India channel for the second vaccination dose and the remaining 30 percent for the first dose.
Maintaining Covid Testing Despite Infection Among Lab Staff – ICMR
India is testing 18-20 lakhs for the detection of Covid-19 per day, said ICMR Director General Dr. Balram Bhargava, stressing that despite infection among laboratory personnel, the performance of the proof still stands.
On April 30, India conducted 19,45,299 tests for Covid-19, which is the highest number of tests conducted by any country, he said, emphasizing that even the United States never reached this number. On May 5, 19,23,131 tests were carried out.
With the second wave of coronavirus, Bhargava emphasized aggressively increasing the use of rapid antigen tests in rural and hard-to-reach areas to ensure faster isolation.
He recommended installing several 24×7 RAT cabins in cities, towns and villages. He said RATs should be allowed in all government and private health facilities and no accreditation is required.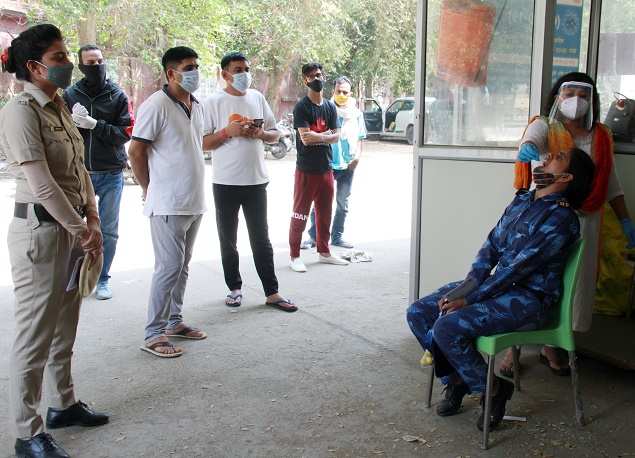 A health worker collects swab samples from security personnel for Covi-19 testing at the former Civil Hospital, amid a nationwide surge in coronavirus cases, on Gurugram. (ANI photo)
Ten states account for 72.28 percent of new recoveries.
Mortality rate below 1%
The national death rate currently stands at 1.09%. A total of 3,876 deaths were reported in a 24-hour span, and 10 states account for 73.09 percent of the new deaths. Karnataka has seen the most casualties (596) followed by Maharashtra (549).
More than 17 crore of vaccine doses administered
The cumulative number of Covid-19 vaccine doses administered in the country has risen to 17.27 million rupees.
A total of 17,27,10,066 doses of vaccine have been administered through 25,15,519 sessions, according to the interim report as of 7 a.m. on Tuesday.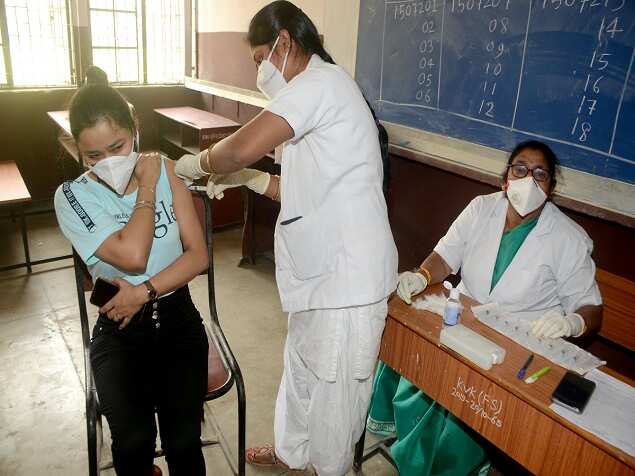 A young man receives the Covid-19 vaccine at the Kankarbagh branches of the Kendriya Vidyalaya vaccination center in Patna.
These include 95,64,242 health workers (HCP) who have taken the first dose and 65.05,744 HCP who have taken the second dose, 1,40,54,058 first-line workers (PDA) who have received the first dose, and 78 , 53,514 PDA who have taken the second dose and 25,59,339 beneficiaries in the age group of 18 to 44 years who have been administered the first dose.
In addition, 5,55,10,630 and 71,95,632 beneficiaries aged 45 to 60 years have received the first and second doses respectively, while 5,38,06,205 and 1,56,60,702 people older than 60 years have taken the first and second doses.
According to the Ministry of Health, 5,24,731 beneficiaries in the 18 to 44 age group have received their first dose of the COVID vaccine in the last 24 hours and a total of 25,59,339 in 30 states and UT since the beginning of the phase 3 vaccination. handle.
Ten states: Maharashtra, Rajasthan, Gujarat, Uttar Pradesh, West Bengal, Karnataka, Madhya Pradesh, Kerala, Bihar and Andhra Pradesh account for 66.7 percent of the cumulative doses administered so far in the country, he said.
(With contributions from the agency)