China Threatens Bangladesh, Says Ties Will Be Affected If Joins Quad | India News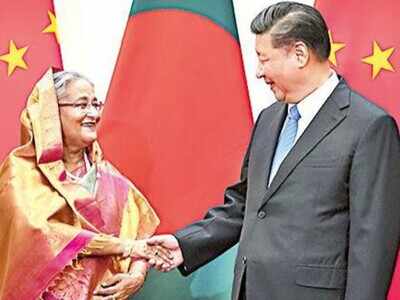 NEW DELHI: China has bluntly threatened Bangladesh with retaliation if he considered some form of participation in the Quad, warning that this will lead to a degradation of bilateral ties.
Addressing journalists in Dhaka, Chinese Ambassador to Bangladesh Li Jiming was quoted by local media as saying that bilateral relations would be "substantially damaged" if Bangladesh committed to the grouping of four countries. "We do not want any form of Bangladeshi participation in this alliance," Li was reported to have said, stressing that Beijing views the Quad as a anti-China grouping.
The envoy said that this message had been conveyed to the Sheikh Hasina government by Chinese Defense Minister Wei Fenghe when he visited it last week. The official reading during Wei's visit had referred to a Chinese assertion against military alliances in South Asia that would lead to "hegemony", which observers took as a reference to India.
China's toughest stance on India has only sharpened since 2020. The reference to Quad and the undiplomatic way in which Bangladesh was warned indicate Beijing's deep discontent with a group that seeks to reduce its influence in the Indo-Pacific and areas that China considers its zone. of influence.
Last week, China held a virtual round table with South Asian countries on Covid-19 and vaccines. Now that the Chinese Sinopharm vaccine has received WHO approval, it will be much easier for India's neighbors to switch to Chinese vaccines, especially when the Indian-made Covishield vaccine is not available for export at this time.
China also got the go-ahead from Sri Lankan President Gotabaya Rajapaksa last week when he met Fenghe. Xinhua reported that Rajapaksa had told Wei that Sri Lanka "has been pursuing an independent foreign policy and will never bow to pressure from major powers outside the region, just as it will never forge an alliance with any country."
This was seen as a euphemism for India, the United States, and the Quad. Also with India, China has not diminished its belligerence. Negotiations for a disengagement in eastern Ladakh have stalled and reports have emerged of China's entrenchment in its positions in eastern Ladakh.
FacebookTwitterLinkedinE-mail