SC rejects the Center's request to suspend Karnataka HC's order on oxygen supply | India News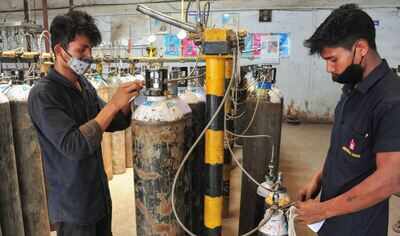 Workers refill medical oxygen cylinders destined for Covid-19 patients, before sending them to hospitals, at a facility amid a surge in coronavirus cases, in Bengaluru (PTI)
NEW DELHI: The Supreme Court on Friday refused to interfere with the Karnataka high court order ordering the Center to assign 1,200 MT of medical oxygen to the state, saying it was a reasoned order and rejected the Center's request to suspend it. Initially, a bench of judges DY Chandrachud and MR Shah said that they had read the HC order and found no fault with it.
The bank said it was a "judicious and calibrated exercise of power" by the HC and that no interference was required. The bank also cited the BJP government's projections in Karnataka on how much oxygen the state needs to support the HC.
Attorney General Tushar Mehta, however, maintained that the Center is ready to sit down with the state government to resolve the issue, but the higher court should not have approved the order. He told the court that the entire system in place to handle the pandemic would collapse if all the higher courts started passing instructions for supplying oxygen to their states. He insisted that a pan-Indian vision was necessary and that the courts should resist taking a state-centered approach.
"We are not averse to the reasonable demands of the states. We have a limited amount of oxygen and we have to meet the needs of all the states. The Center and the states can sit together and decide on the oxygen allocation," Mehta said.
"It is imperative that the limited resources available are used in the most judicious way, taking into account the general situation in the country. Therefore, passing instructions in nature and the way the HC has done it would ultimately lead to mismanagement of resources and create a more chaotic environment in an already overloaded system, "said the Center.
However, the higher court was not convinced by the presentation and said that the HC had approved a reasoned order that justified the supply of 1,200 MT of oxygen, since the state government itself had requested 1,162 MT.
"The HC has provided adequate reasons for issuing a calibrated ad-interim address. The HC address is evidently an ad-interim address, subject to the calibration that would be necessary after the state of Karnataka and the Union government have tried mutually Resolve the matter. The order of the HC does not exclude a mutual resolution by the two governments, since the process is still pending, "said the bench.
"The HC order is based on the need to maintain at least a minimum requirement as projected by the state government until a decision is made on representation. Therefore, without inquiring into the broader issues that are sought to be raised in this stage (and keep them open) there is no reason to consider the request, "he said. The court also noted that the allocation for Karnataka was 802 MT before April 30 and has been increased to 856 MT since May 1 and 965 MT since May 5.
FacebookTwitterLinkedinE-mail