With 4,187, India registers its highest number of deaths from Covid in one day | India News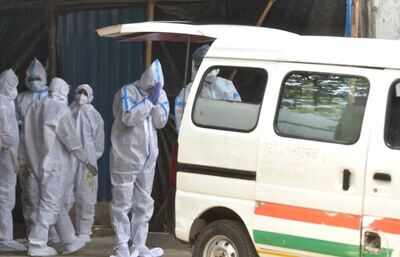 A family is seen paying their last respects to a deceased member, outside a hospital in Mumbai
India's Covid-19 wave crossed another grim milestone with the country reporting more than 4,000 deaths from the virus in a single day, even as daily cases remained above 4 lakh for the third day in a row.
India reported 4,187 deaths on Friday, only the third country after the United States and Brazil to report more than 4,000 deaths in one day. According to worldometers.info, the highest single-day death toll in any country is 4,490 reported deaths in the US on January 12.
With 4,01,522 new cases reported on Friday, according to TOI's Covid database, India has recorded more cases in 82 days of the second Covid wave than in more than a year before that. Since February 14, the country has documented 1,09,68,039 cases of the coronavirus compared to 1,09,16,481 cases recorded from January 30 of last year to February 14 of this year.
Although a single day cannot be pinpointed as the start of the second wave in the country, February 14 is the date since the seven-day moving average of daily cases in India has risen steadily.
In other words, the number of Covid cases in India has doubled in 82 days, a very rapid increase considering that the number that has doubled is 1.1 million rupees. Assuming the first wave in the country actually started on April 1 of last year, the second wave has already seen daily case counts four times higher than the first.
More than 82,000 Covid deaths have been recorded in the country since February 14, more than half of all previous deaths. India has recorded a total of 2,38,197 Covid-related deaths so far. On Friday, at least five states reported their highest daily death toll from the pandemic. These included Karnataka, which saw a large increase in deaths with 592 people succumbing to the virus.
Other states with the highest daily tolls were Uttar Pradesh (372 deaths), Tamil Nadu (197), Rajasthan (164) and Himachal Pradesh (56). Maharashtra continued to record the highest number of fatalities with 898. Other states where the death toll remained high were Delhi (341), Chhattisgarh (208), Punjab (165), Haryana (162), Uttarakhand (137), Jharkhand (136) and Bengal (112), among others.
The total death toll surpassed the 10,000 mark in Punjab and Chhattisgarh on Friday. In total, the Covid toll has exceeded 10,000 in eight states. Punjab has the highest CFR fatality rate in the country at 2.4%.
FacebookTwitterLinkedinE-mail