SC to the center: Securing 700MT of O2 for Delhi or face enforcement action | India News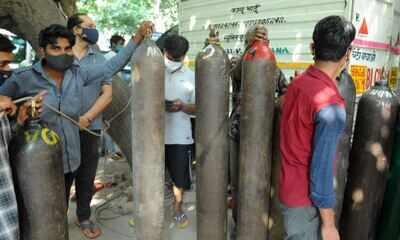 People wait to refill medical oxygen cylinders for Covid-19 coronavirus patients, in Delhi
NEW DELHI: The Supreme Court stated on Friday that the Center has to guarantee the supply of 700 MT of oxygen to Delhi daily until it receives instructions from the court, and made it clear that it will have no qualms about taking enforcement action in case of non-compliance with your order.
A bench of judges DY Chandrachud and MR Shah said that their order to allocate 700 MT of oxygen was not for a day and that the supply of that level had to be maintained on a daily basis.
"We want 700 MT to be supplied to Delhi on a daily basis. It is not that our order was for the 700 MT supply just for one day, but it is for every day," the bank said when the Delhi government attorney, the attorney Chief Rahul Mehra, told the bank that Delhi received 537 MT of oxygen until midnight and another 89 MT until 9 am on Friday.
Taking note of his presentation, the court told Attorney General Tushar Mehta: "Please do not lead us into a situation where we have to take coercive action. We want 700 MT not just for one day but every day. We speak in serious and you have to do it. supply 700 MT. "
While the contempt proceedings initiated by the Delhi High Court against the Center and its senior bureaucrats for supplying medical oxygen to Delhi are upheld, the high court on Wednesday ordered the Center to guarantee the supply of 700 MT of oxygen to the city .
Agreeing with the Center's presentation that the problem required a pan-India approach and that no state should receive oxygen from the share allocated to others, the bank had said: "However, the situation on the ground in Delhi, where people run from one hospital to another to find an oxygen bed, it has to be addressed. And we have already approved an order asking the Center to maintain the supply of 700 MT of oxygen until May 10, when we will review the requirement after hearing to all parties ".
FacebookTwitterLinkedinE-mail