Delhi positivity rate 32%, tests decreased in 2.7L samples | India News
NEW DELHI: While most states have increased testing in the wake of a second rising wave of Covid-19 infections, Delhi and Telangana have reduced their testing by as much as 3 lakh of samples each in the past fortnight, between the April 21 and May 4. , raising concerns about the effectiveness of disease control in these states.
Overall, Covid-19 testing increased 19% between April 21 and May 4 compared to the previous fortnight of April 8-21. Total tests for all of India have risen from Rs 1.87 million to Rs 2.21 million over the two fortnights.
With a 32% positivity rate (total confirmed cases per 100 tests), Delhi has witnessed an increase in new cases, overwhelming its healthcare system. The T-3 strategy (track, test, treat) is key to containing the pandemic. However, instead of increasing testing, Delhi actually lowered it by 2.7 lakh of samples in the past fortnight compared to the previous one. The total of tests carried out by Delhi during the last two weeks (April 21 to May 4) was 9.55 lakh against 12.26 lakh in the previous fortnight.
Telangana is the other state where testing has dropped by at least 3 lakh in the last fortnight. Bihar has slowed down, but very marginally, although it should increase testing.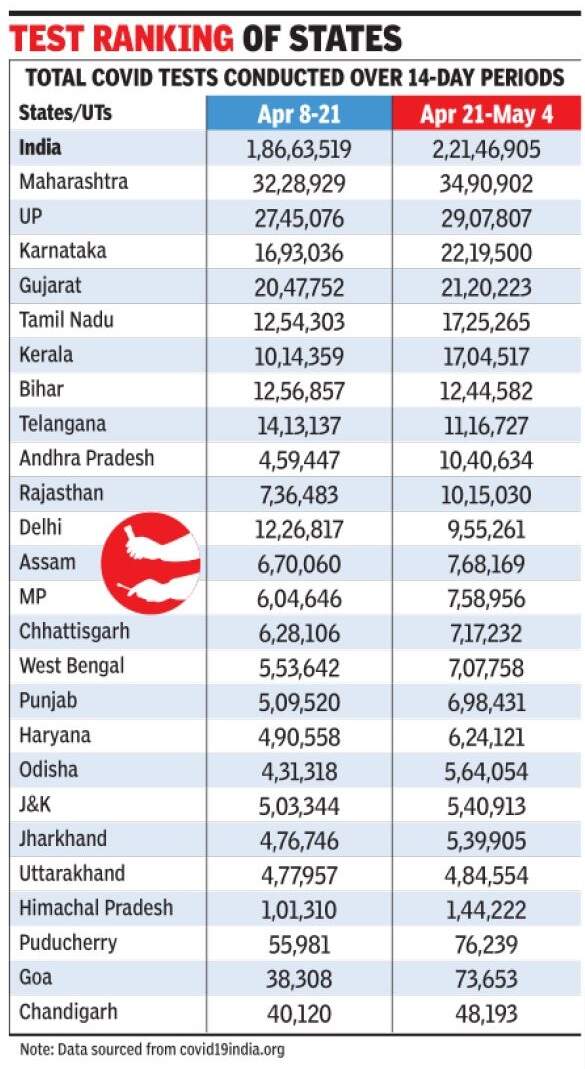 In terms of tests per million, Delhi still ranks high with 8.8 lakh of tests, followed by Jammu and Kashmir (5.7 lakh / m), Goa (4.5 lakh), Kerala (4.7 lakh) , Karnataka (4 lakh), Telangana and Uttarakhand. (3.5 lakh each). The problem with Delhi is that the infection rate requires more testing. Andhra Pradesh and Tamil Nadu have tested more than 3 lakh / million, Gujarat (2.8 lakh) Maharashtra (2.3 lakh), UP (1.8 lakh), Rajasthan and West Bengal 1 lakh each.
However, in absolute numbers, Maharashtra is at the top with 34 lakh of testing (April 21 to May 4), followed by UP with 29 lakh, Karnataka (22 lakh), Gujarat (21 lakh), Tamil Nadu ( 17.25 lakh) and Kerala (17 lakh).
A similar study in March found that nationwide testing had increased by 38% during the last half of the month compared to the first two weeks. The total of Covid-19 tests conducted during March 1-14 was 97.89 lakh, which increased to 1.35 crore between March 14-27. The total biweekly tests have now reached Rs 2.2 million.