With 36,110, India has the highest toll in the world in a span of 10 days | India News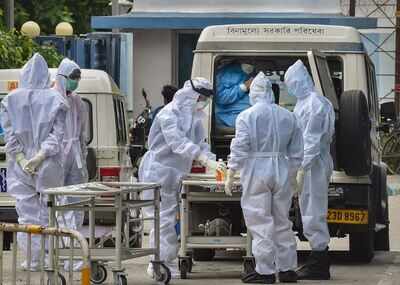 Daily Covid-19 cases in India reached another peak, with more than 4.14 lakhs of fresh infections reported on Thursday, even as 3,927 more people succumbed to the pandemic. Daily deaths have remained above 3,000 for 10 days, with a total of 36,110 deaths, which translates to an average of 150 deaths per hour. This is the highest number of deaths reported by any country in a 10-day span. According to the WHO, the highest cumulative deaths reported by the US for 10 consecutive days is 34,798, while the corresponding figure for Brazil is 32,692.
The highest deaths in Mexico and the United Kingdom during a similar period are 13,897 and 13,266, respectively. Daily cases remained above 4 lakh for the second day in a row with 4,14,554 new infections recorded on Thursday. Wednesday's count was 4,12,784, according to TOI's Covid database collected from state governments.
While 13 states reported more than 100 deaths in the past 24 hours, as many as six states and UT posted their highest daily toll. The smallest state among the 13 in terms of population was Uttarakhand, the headquarters of the Kumbh mela, which reported 151 new deaths, the 10th highest in the country on Thursday. Maharashtra continued to lead the states in deaths and reported 853 deaths in the past 24 hours. Three states, Uttar Pradesh, Delhi and Karnataka, reported more than 300 deaths, while the death count was more than 200 for Chhattisgarh.
In addition to Uttarakhand, the states that reported more than 100 deaths were Tamil Nadu, Haryana, Rajasthan, Punjab, Uttarakhand, Jharkhand, Gujarat, and West Bengal. Tamil Nadu (195 deaths), Rajasthan (161), West Bengal (117), Kerala (63) and J&K 52 also recorded their highest number of casualties in a single day. The death toll at J&K was the same as on Wednesday.
Thursday was the 16th consecutive day that India has reported more than 3 lakh of daily Covid cases. Aside from Maharashtra, which has been the leader among the states for a while, Karnataka reported 49,058 cases on Thursday, a day after hitting the 50,000 mark. In all, 11 states and UT had their highest daily cases on Thursday. These included Kerala (42,464), Tamil Nadu (24,898), West Bengal (18,431), Odisha (10,521), Punjab (8,874), Uttarakhand (8,517), Assam (4,936), J&K (4,926), Himachal Pradesh (3,942), Goa (3869) and Meghalaya which reported 347 new infections in the last 24 hours.
FacebookTwitterLinkedinE-mail