On day 1 in office, Didi brings back the police officers that EC had transferred | India News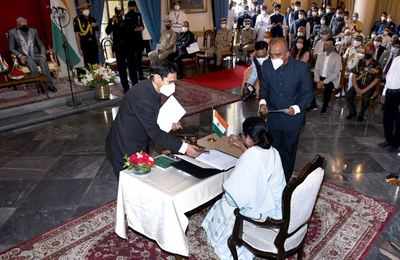 The newly elected Prime Minister of West Bengal for the third consecutive term, Mamata Banerjee, signs the document after being sworn in, at Raj Bhavan in Kolkata on Wednesday (ANI).
CALCUTTA: West Bengal Chief Minister Mamata Banerjee carried out a major reorganization of the top ranks of the state police on Wednesday, reinstating officers who were transferred after the Election Commission took office.
Banerjee reinstated DGP Virendra and ADG (law and order) Jawed Shamim in two key changes, the announcements made at his first press conference after taking office as CM for the third consecutive term.
The incumbents, DGP P Nirajnayan and ADG (law and order) Jag Mohan, were appointed as DG (Fire Service) and director of civil defense, respectively. Both Virendra and Shamim had been transferred by the survey panel. Virendra was appointed advisor to West Bengal State Electricity Distribution Company Limited, while Shamim was appointed DG (Fire).
The state Interior Department also reversed the suspension of senior IPS official Vivek Sahai, reinstating him as director of security. The EC had acted against Sahai and suspended him immediately after the CM was injured in Nandigram during its campaign there on March 10.
The District Officer (DM) of the Medinapur Eastern District, Vibhu Goyal, was also removed from office.
"Our former DGP Virendra is now back. His retirement is in May. Then you will return to your office for a few days. Jawed was ADG (law and order). It is being returned. The current DG will be in charge of the fire services and the ADG (law and order) will be in charge of civil defense, "Banerjee said at a press conference.
Among the other major reorganizations, Gyanwant Singh, serving as director of security after Sahai's suspension, has been appointed additional director of security. You will have the additional position as ADG (armed police).
Sanjay Singh will be the new ADG (western zone). While Manoj Kumar Verma is back as CP Barrackpore, Ajay Kumar Thakur, the DIG Operations at CID, will be the new Asansol CP. Arnab Ghosh is Chandannagar's new PC. Chandannagar's current CP Gaurav Sharma has been named Siliguri's new CP. It is the position in which you had previously held.
Two IPS officers, Mitesh Jain, Asansol-Durgapur Police CP and Mukesh (DIG) Barasat Range, have been sent on mandatory hold. The districts got 14 new SPs. Many of these officers were on mandatory hold, conducted by the EC.
FacebookTwitterLinkedinE-mail