23 patients die in Karnataka district hospital from falling oxygen supply | India News
MYSURU: Up to 23 patients died early Monday morning at the Chamarajanagar district hospital, about 175 kilometers from Bangalore, after the oxygen supply was drastically reduced. In Kollegal taluk in the same district, another man died of the same problem in a private hospital.
The situation began to unravel at the district hospital around 8pm on Sunday when oxygen supplies began to run low and supplies were not reaching the city from Mysuru. The breathless patients called their relatives who rushed to help them, but with little success.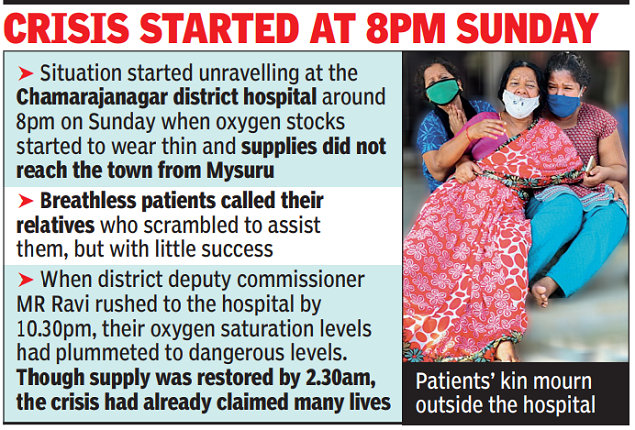 When Deputy District Commissioner MR Ravi rushed to the hospital at 10:30 pm, his oxygen saturation levels had plummeted to dangerous levels. Although the supply was restored at 2:30 a.m., many lives had been claimed. "The action is expected to last for the next two days," official sources said. Relatives of those who died between the ages of 25 and 50 gathered near the hospital and protested, claiming negligence on the part of the hospital.
Not all deaths are due to lack of O 2, say K'taka ministers
Although one of the victims is an official of the Department of the Treasury, the rest are farmers and the majority had been admitted to the hospital a few days ago.
Education Minister Suresh Kumar and Health Minister K Sudhakar rushed to the city to assess the situation. "The cylinders were supposed to come from Mysuru, but there was a technical problem," Kumar said. He added that he received complaints that the supply was delayed due to the intervention of Mysuru's Deputy Commissioner, Rohini Sindhuri, and that he would address the issue once he received a report. He admitted that there was a lack of coordination between the two district administrations on the exchange of oxygen cylinders. Sindhuri issued a press release denying the charge and clarified that it had sent cylinders to Chamarajanagar on humanitarian grounds following a request. Suresh Kumar and Sudhakar claimed that all those who died in Chamarajanagar may not have died due to oxygen shortages.
Prime Minister BS Yediyurappa ordered an investigation into the deaths and asked IAS Senior Officer Shivayogi Kalasad to submit the report within three days. He called an emergency cabinet meeting Tuesday night to discuss the issue. The minister in charge of the Chamarajanagar district, Suresh Kumar, requested the audit of 24 deaths.