Supreme Court rejects the Electoral Commission's request to limit judicial media reporting | India News
NEW DELHI: The Supreme Court on Monday rejected the Election Commission's position that the media should only report court orders and not the scathing remarks of judges during hearings, saying the intense and minute-by-minute reporting of court proceedings fostered a sense of transparency and public trust in the adjudication process.
"In the 1950s, a handful of newspapers reported on constitutional court proceedings. But in the current era, the proceedings before any constitutional court in important matters related to the public interest are reported minute by minute not only by the mainstream media and electronic media, but also by social media. This does not mean that judges should feel restricted from asking uncomfortable questions about the functioning of the authorities, both executive and constitutional, "said a bench of judges DY Chandrachud and MR Shah.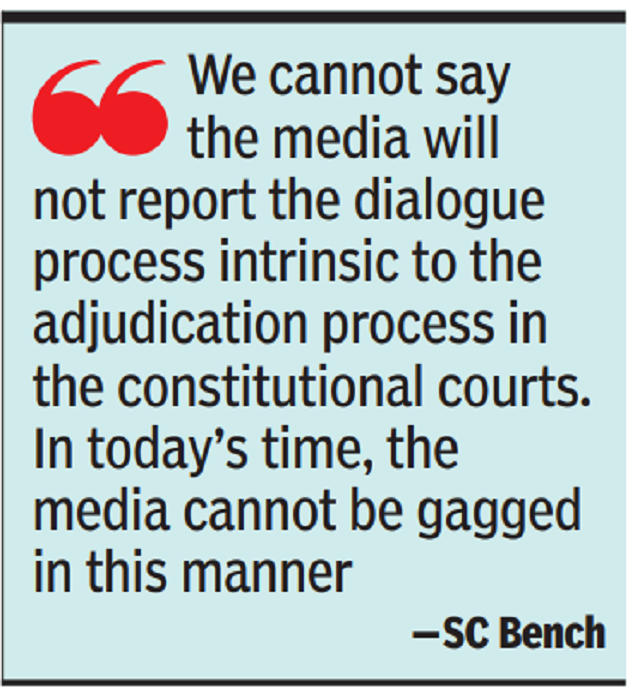 The court explained to the EC that the fact that the judges asked a lawyer questions reflected the single dialogue scrutiny process adopted by the Indian courts before making a decision. "There is always a lawyer in the dock and the judges ask pointed questions. That does not mean that the judge is against the attorney or the client he represents. It is to get the best answer ", he added.
While referring to the EC as an important pillar of democracy, the court said: "The media is an important watchdog in maintaining the sanctity of democracy. The scrutiny dialogue process in court proceedings, when reported by the media, reflects a genuine application of mind (by judges) and fosters confidence in the minds of the general public about the system. "
Appearing for the EC, Lead Counsel Rakesh Dwivedi said: "We as attorneys welcome the questions from the judges. We cannot say that the media should not report. But judges must ask questions that are contextual and give the parties a chance before making scathing remarks. "
Judge Chandrachud said: "There are judges and judges. Some are reticent while others are talkative. Observations reflect the individual personality of a judge and in adjudicating matters of public interest, especially when citizens are under immense stress due to the exponential increase in Covid cases, it will surely reflect public sentiment. The effort of the judiciary is to guarantee a greater public good.
"We cannot say that the media will not report on the dialogue process intrinsic to the adjudication process in constitutional courts. In today's time, the media cannot be gagged in this way. "