Pfizer Promises Medicines and Seeks a Fast Track to Make Vaccines in India, But Says Nothing on Patent Exemption | India News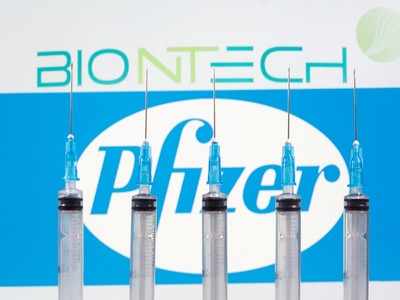 WASHINGTON: The Pharmaceutical Giant Pfizer said it is preparing $ 70 million worth of drug supplies for India, including steroids, blood thinners and antibiotics, as it seeks an "expedited approval pathway" from New Delhi for its Covid-19 vaccine amid continued global stagnation on patent issues.
Pfizer CEO Albert Bourla said in messages posted on social media on Monday that "Unfortunately, our vaccine is not registered in India, although our application was submitted months ago," while ignoring growing requests from many countries in development, liberal US lawmakers and activists, that Pfizer and other Big Pharma are waiving patent protection at least temporarily to deal with the pandemic.
"We are currently discussing with the government of India an expedited approval path for our Pfizer-BioNTech vaccine to be available for use in the country," Bourla said, adding that Pfizer employees in the US, Europe and Asia are working to ship drugs that the Indian government has approved as part of its Covid treatment protocol.
"We are all following with deep concern the critical situation of Covid in India and Pfizer is doing everything possible to provide support … We are committed to being a partner in India's fight against this disease and we are working quickly to mobilize the greatest effort from humanitarian aid in the history of our company, "said Bourla.
The claims did not address the patent issue that many global leaders and activists, including WHO Director-General Tedros Adhanom Ghebreyesus, and US Senator Bernie Sanders, say is at the heart of a long-term solution.
"I think what we have to say to drug companies right now, when millions of lives are at stake around the world, is: 'Yes, allow other countries to have these intellectual property rights so that they can produce the vaccines that are desperately needed in poor countries, '? "Sanders said on a talk show Sunday morning.
"We not only have a moral responsibility to help the rest of the world, it is in our own interest because if this pandemic continues to spread to other countries, it will come back and bite us at one point or another." he warned.
Ghebreyesus, for his part, has asked: "If a temporary patent exemption cannot be issued now, during these unprecedented times, when is the right time?"
But despite pressure from the left, the Biden administration's response has been tepid, with officials arguing that patents were only part of the problem, with Washington focusing on immediate supplies and addressing shortages of materials. raw materials making it difficult to manufacture vaccines in India.
"India has its own vaccine, the Covishield vaccine. Production is slow there because they don't have the scarce raw materials to do that. We ship enough raw material to make 20 million doses immediately. Intellectual property rights are part of the problem, but manufacturing is the biggest problem. " White House Chief of Staff Ron Klain told CBS News.
Separately, National Security Advisor Jake Sullivan said in another Sunday talk that US Trade Representative Katherine Tai is in "intensive consultations" at the World Trade Organization on the issue of vaccine patent waiver, and "we should have a way forward in the coming days."
Sullivan said that "in a crisis of this speed and ferocity, we always wish we could move faster and do more," but the US was continuing to work to obtain additional critical materials to move as quickly as possible, both directly from the US. and also boost partners from all over the world. "
"We are concerned with variants. We are concerned about the spread. We are concerned about the loss of life and also about all the side effects that emerge as this pandemic spirals out of control in India, "Sullivan said on ABC, reflecting the anxiety in Washington as it seeks to prevent transmission of the virus by shutting down non-essential travel. from India.
FacebookTwitterLinkedinE-mail