Romania ships oxygen concentrators, oxygen cylinders and oxygen therapy equipment to India | India News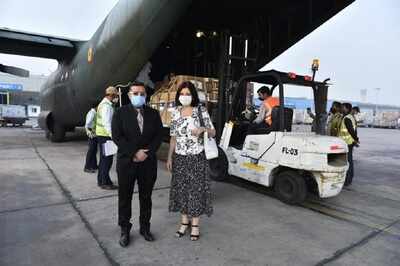 HYDERABAD: Up to 80 oxygen concentrators, 75 oxygen cylinders and 20 high-flow oxygen therapy equipment from Romania arrived in India early on Friday morning.
"These kits have been donated by the Government of Romania through the EU Civil Protection Mechanism. Thank you, Romania! "Rahul Shrivastava, Indian Ambassador to Romania, Moldovo and Albania, said in a post on LinkedIn.
Daniela Sezonov Tane, Ambassador to India, Nepal and Bangladesh, Romanian Embassy said that Romania expresses its solidarity and joins the European and international efforts to support the Republic of India, in the face of an "unprecedented dramatic circumstance of an increase in Sars CoV2 virus infections."
Romania has offered humanitarian assistance to the Republic of India, following a request addressed to the European Union by the Indian government. The Member States of the European Union have activated the European Civil Protection Mechanism, with Romania being one of the Member States that fully supported this approach, Ambassador Daniela Sezonov Tane saying.
"The support provided by my country reflects the excellent bilateral relations we have with India, through the existing Extended Association, signed in 2013. The medical field is one of the main cooperation domains, with special relevance in times of crisis, such as the one we face now, "said Ambassador Daniela Sezonov Tane.
He explained that the assistance was sent by the Romanian Emergency Department, through its Foundation for Emergency Response (SMURD Foundation), which mobilized in just 48 hours some much-needed medical equipment, including 80 oxygen concentrators, 75 of oxygen and 20 high-flow oxygen therapy equipment. . The Romanian Defense Ministry offered the plane to transport him.
The ambassador said that Romanian medical supplies are among the first to arrive in New Delhi and that they would be followed by additional medical devices and equipment sent by the other European Union member states, within the UCPM – Union Civil Protection Mechanism. , as part of the joint efforts of Team Europe.
"The hearts and prayers of the Romanian people go out to the Indian people at this very difficult time," said Ambassador Daniela Sezonov Tane.
FacebookTwitterLinkedinE-mail