Government working together and quickly to deal with the Covid crisis: PM Modi | India News
NEW DELHI: Prime Minister Narendra Modi said on Friday that all branches of government are working together and rapidly to address the worsening Covid-19 situation in the country.
His comments came during a high-level meeting with the council of ministers to discuss the Covid-19 situation in India.
During the meeting, the Prime Minister urged his ministers to keep in touch with the people in their respective regions and receive their comments.
He stressed the need to ensure that issues at the local level are quickly identified and addressed, the PMO said in a statement.
The council also reviewed all the efforts made in the last 14 months by the central and state governments and the people of India.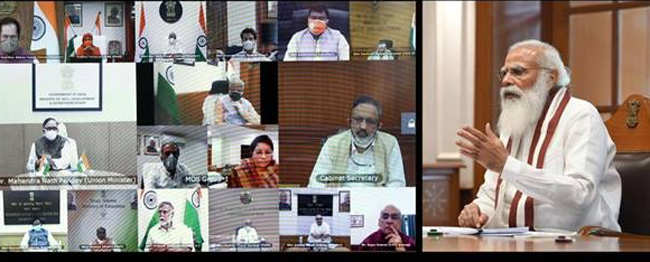 During the meeting, the ministers and the prime minister reviewed the efforts made by the Center in coordination with the states to improve infrastructure in the form of hospital beds, PSA oxygen facilities, etc., as well as to provide financial support to the poor .
It was also noted that India could successfully produce two vaccines and that there are many candidates in the various stages of approval and induction. To date, there have been more than 15 crore vaccinations, according to the statement.
The council of ministers also stressed the importance of appropriate Covid behavior, such as wearing a mask, social distancing, and frequent hand washing.
He reiterated that the participation of society is a key aspect to fulfill the gigantic task that lies ahead and expressed his confidence that the country will rise to the occasion and defeat the virus.
India is in the grip of a catastrophic Covid situation and the country reported more than 3.8 lakh of fresh infections on Friday and more than 3,000 deaths.