Report on the blocking of the FB hashtag 'naughty': Government | India News
NEW DELHI: On Thursday, the government called "misleading" and "malicious" a report that it had ordered Facebook to block posts bearing the hashtag #ResignModi – and the social media giant later restored them, saying they had been blocked "by mistake."
The Union Ministry of Electronics and Information Technology shared a statement on the Koo app, India's national alternative to Twitter, saying: "A story of Wall street journal attribute the removal of a certain hashtag by Facebook to GOIEfforts to curb public dissent are deceptive in fact and malicious in intent. government has not issued any instructions to remove this hashtag. Facebook has also clarified that it was removed by mistake. "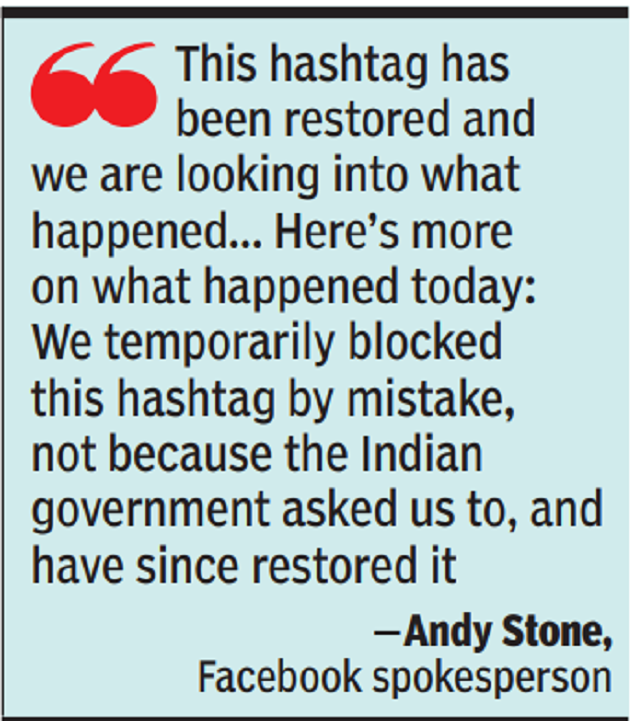 On Wednesday, several thousand posts with the hashtag were unavailable on Facebook for several hours. When users searched for the trend, they were redirected to a page that said the posts were "against the standards of the Facebook community."
Responding to a tweet asking why the hashtag was blocked, Facebook spokesperson Andy rock He said around 1.10am, "This hashtag has been restored and we are investigating what happened." Around 5.30am, in response to another tweet, Stone said: "Here is more information about what happened today: We temporarily blocked this hashtag by mistake, not because the Indian government asked us to, and we have since reinstated it."
Several other international news organizations, including guardian and Buzzfeed, also wrote about Facebook's blocking of the hashtag, which was the main trend in India throughout the day, garnering more than 302,000 tweets.
A statement shared by Facebook with TOI echoed Stone's tweets.
Last week, the government ordered the social media giants to remove 100 "fake" and "misleading" posts and URLs about Covid-19. Pointing to the growing instances of online censorship, cyber experts said archaic laws restricting freedom of speech and expression should be reviewed. "Laws that require the confidentiality of takedown notices (such as Section 69A of the TI Act) should be repealed," Mozilla Tech policy member Divij Joshi told TOI.
Social media companies must also disclose "meaningful information about content moderation, including what is removed and what is allowed to remain, through regular reports … They must provide reasons for removal, especially to affected individuals whose content is removed, "he added.