Modi talks to Putin, thanks him for rushing medical aid | India News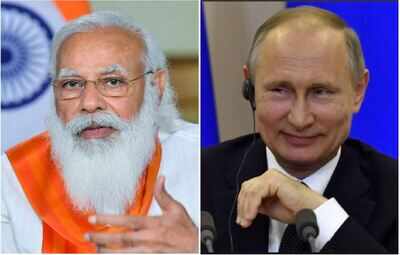 NEW DELHI: Prime Minister Narendra Modi spoke to the russian president Vladimir Putin on Wednesday night, when Moscow rushed to send medical aid to help India fight its huge Covid-19 surge.
"I had an excellent conversation with my president friend Putin today. We discussed the evolution of the Covid-19 situation and I thanked President Putin for Russia"Aid and support in India's fight against the pandemic," Modi tweeted.
According to an official reading, in addition to a discussion about the pandemic, the two leaders decided to hold a dialogue in a 2 + 2 format between the ministers of Foreign Affairs and Defense. Russian aid includes 20 oxygen production units, 75 lung ventilators, 150 medical monitors and 200,000 medicine packages.
The Russian Direct Investment Fund on Tuesday it said it would export the first batch of Sputnik V vaccinates India from May 1, the day India expands its Covid-19 immunization campaign to cover all adults. The sources said Putin expressed his solidarity with the people and government of India and conveyed that Russia would provide all possible support.
FacebookTwitterLinkedinE-mail