13 billion rupees delivered directly to farmers | India News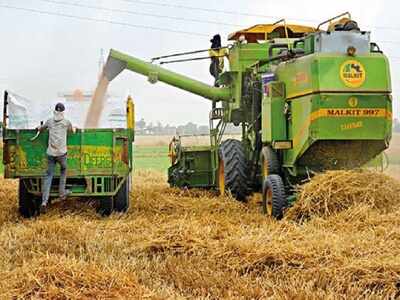 NEW DELHI: The government has transferred about 8,180 million rupees to the accounts of Punjab farmers and 4,670 million rupees for Haryana farmers directly against selling their wheat crop, the Food Ministry said on Monday.
As of Monday, 22.2 million tonnes of wheat were purchased during this Rabi marketing season compared to 7.6 million tonnes during the same period last year. The acquisition was lower during this period in the 2020 harvests as there was a strict blockade across the country.
The ministry also said that nearly 38% of acquisitions so far have come from Punjab, followed by Haryana (32%) and Madhya Pradesh (23%). "About 21.17 lakh of wheat farmers have already benefited from ongoing acquisition operations with SMEs value of around Rs 43,912 crore. For the first time, the procurement of food grains in Haryana and Punjab is now done by directly transferring the amount from the MSP to their bank accounts. The ministry said this has ensured that farmers receive their payment without delay or cutbacks.
FacebookTwitterLinkedinE-mail