Covid-19: From giants to startups, companies enter the O2 law | India News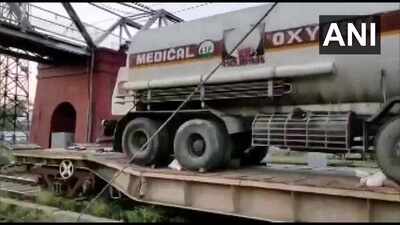 NEW DELHI – A host of businesses, ranging from cigarettes to consumer goods company ITC, salt-to-software conglomerate Tata Groupand logistics startup Delhivery have joined forces to ensure a greater supply of oxygen to Covid-19 patients.
In addition, the fertilizer producer IFFCO, a crop protection company UPL and even smaller companies announced new measures to increase supplies during what is considered an emergency.
ITC said it has partnered with oxygen supplier Linde India to air transport 24 cryogenic ISO containers of 20 tons each from Asian countries to transport medical oxygen through India. ITC is also air transporting a large number of oxygen concentrators for distribution with its cardboard unit in Bhadrachalam, beginning the oxygen supply to neighboring areas.
Separately, Linde said that it had secured 24 cryogenic containers in collaboration with the Tata Group that arrived in eastern India, which currently has a surplus of oxygen and helps to bridge part of the deficit in northern India. Even Delhivery is flying charter to send hubs and other essential supplies to the country, the startup said.
Similary, Sequoia Capital CEO Shailendra J Singh tweeted that the company was looking for oxygen concentrators. "We have a few dozen leads that we are looking for right now, including some incredible referrals from our friends at Chinese Redwood"He said in a social media post later that day.
Manufacturing units are also reusing some of their plants to produce oxygen or establishing new units. For example, UPL said it plans to convert four of its nitrogen production plants in Gujarat to produce and deliver oxygen to four hospitals in Gujarat and MP. "These plants will then be mounted on skates and delivered directly to hospital sites. This UPL innovation will help serve 200-250 beds in each of these hospitals, including ICU patients, "he said. Similarly, IFFCO is acquiring one of its facilities in Uttar Pradesh to produce oxygen.
FacebookTwitterLinkedinE-mail