Government Increases Medical Oxygen Supply As Covid Crisis Deepens: Key Points | India News
NEW DELHI: On Saturday, the government stepped up its efforts to bring oxygen to hospitals using special Oxygen Express trains, planes and air force trucks to transport tanker trucks amid the worsening Covid crisis in the country.
Hospitals in several states are reeling from shortages of medical oxygen and beds in light of the growing number of cases.
New cases once again touched a new peak of 3.46 lakh in a single day in India, while deaths reached a new dismal record of 2,600 on Friday.
Indian Air Force
brings 4 containers of cryogenic oxygen from Singapore
The Indian Air Force collected four cryogenic containers for liquid oxygen storage from Singapore on Saturday. The containers were airlifted from Singapore by IAF C17 heavy cargo aircraft.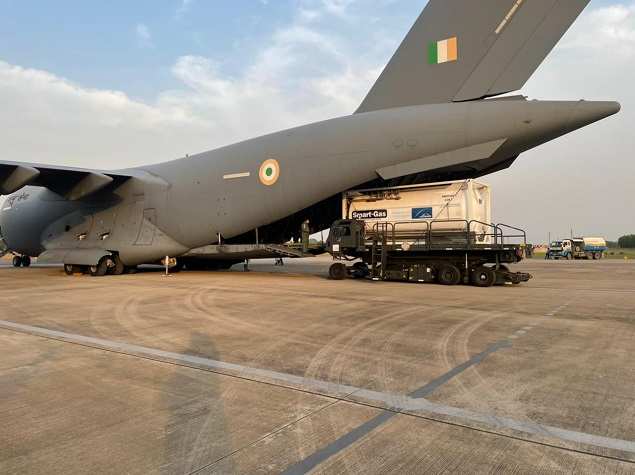 The containers were airlifted from Singapore by IAF C17 heavy cargo aircraft.
The plane with four cryogenic oxygen containers landed at Panagarh air base in West Bengal around 4:30 pm.
Government exempts from customs duties on Covid vaccine, oxygen and related equipment
On Saturday, the government waived basic customs duties on the importation of COVID vaccine, medical-grade oxygen and related equipment to increase domestic availability and make it cheaper amid rising infections across the country.
The decision to waive customs duties was made at a meeting chaired by Prime Minister Narendra Modi to boost oxygen availability in the country.
"In order to increase its production and availability and meet the growing demand, it was decided to grant a total exemption from the Basic Customs Tariff and the health tax on the importation of the following oxygen-related items and oxygen-related equipment for a period of three months with immediate effect, "said an official statement.
Oxygen Express delivers nearly 150 tons of oxygen in the last 24 hours
Tanker trucks Oxygen Expresses with Liquid Medical Oxygen (LMO) have arrived in Nashik and Lucknow for Maharashtra and Uttar Pradesh, respectively.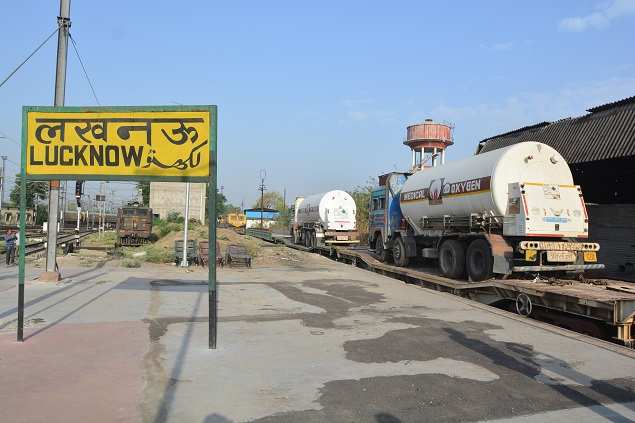 Few containers were also unloaded in Nagpur and Varanasi en route to supply LMOs in this region. An Oxygen Express train carrying three liquid medical oxygen tankers arrived in Uttar Pradesh through a green corridor.
So far a total of 10 containers with nearly 150 tons of oxygen have been transported, the government said.
'Please help': Delhi hospitals call for help
Amid an unprecedented crisis over oxygen supply as the second wave of coronavirus ravages the country, some "defenseless" hospitals in Delhi are advising relatives to transfer their patients to another facility, while several others They have no choice but to use their backup stocks.
Narin Sehgal, director of Sehgal Neo Hospital Meera Bagh, placed an urgent order for oxygen supply, saying that the facility had 120 Covid-19 patients out of a total of 150 and that the oxygen was left alone for another two hours.
Fortis Hospital in Shalimar Bagh, currently running on its backup oxygen supply, urged the prime minister, the prime minister of Delhi and other ministers to receive "immediate assistance."
Saroj Super Specialty Hospital, which has not received oxygen replacement for the past 44 hours, is now advising its patients to transfer to other hospitals.
Elite hospitals like Sir Ganga Ram, which received a 1.5-ton oxygen recharge, said their current stock would last for just two hours. The hospital requires a minimum of 11,000 cubic meters of oxygen per day.
Kejriwal writes to all CMs, asks them to provide oxygen to Delhi 'if they have to spare'
Delhi Prime Minister Arvind Kejriwal wrote a letter to all the country's top ministers on Saturday asking them to provide additional oxygen to the national capital.
"I am writing to all CMs requesting that they provide oxygen to Delhi, if they have to spare. Although the central government is also helping us, the severity of the crown is such that all available resources are proving inadequate," Kejriwal said in a tweet. .
I am writing to all CMs requesting that they provide oxygen to Delhi, if they have any to spare. Although the central government. it's also … https://t.co/ErZohhMtKf

– Arvind Kejriwal (@ArvindKejriwal) 1619268949000
Punjab shuts down iron and steel industries to divert oxygen for medical use
The Punjab government on Saturday ordered the shutdown of operations in the state's steel industry to divert oxygen for medical use. Punjab Chief Minister Amarinder Singh also ordered the immediate establishment of oxygen control rooms at the state and district levels.
Order the closure of industrial operations at the steel plants, the CM said in a statement, adding that the state government will transmit its decision to the Center.
The move came hours after six patients died at a private hospital in Amritsar due to oxygen shortages.
'Anyone who blocks oxygen supply will be hanged': Delhi high court
If any official of the central, state or local administration obstructs the collection or supply of oxygen, then it will "hang" that person, the Delhi high court said on Saturday.
The observation came during the hearing of a plea by the Maharaja Agrasen Hospital for the shortage of oxygen for seriously ill Covid patients. The court told the Delhi government to give it an instance as to who was obstructing the oxygen supply and said "we will hang that man."
"We will not forgive anyone," added a bench of judges Vipin Sanghi and Rekha Palli.
20 patients die at Jaipur's Golden Hospital
Twenty people died at Delhi's Jaipur Golden Hospital, their lives decaying as the hospital waited for oxygen to be replenished on Saturday, the fifth day of a crisis stemming from an acute oxygen shortage that endangers sick Covid patients. critic in the national capital of India.
Every few hours, as it has been for much of the week, hospitals in the city and its suburbs, including Ganga Ram and Max Healthcare, as well as smaller facilities, raised the alarm about dwindling stocks on social media and other platforms.
Desperate for help, some hospitals approached the Delhi high court, which called the increasing cases a tsunami.
(With PTI inputs)