80cr to get 5 kg of grain free under NFSA for the next 2 months | India News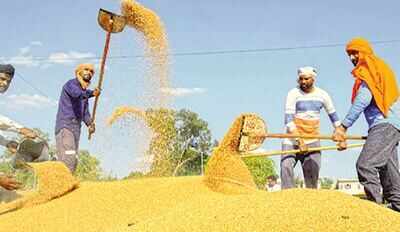 The central reserve has wheat and rice stocks of 6.9 million tons, which is almost three times the reserve requirement.
NEW DELHI: The government announced on Friday that 5kg of free wheat or rice per month will be provided to around 80 million million people for the next two months, May and June.
This will be extended to beneficiaries under the National Food Security Law (NFSA) and about 8 million tonnes of food grains will be distributed under this plan.
The scheme, with an additional expenditure of nearly Rs 26,000 crore, is expected to provide relief to NFSA recipients as it will be in addition to the regular entitlement of 5 kg of highly subsidized food grains to each recipient at the rate of 3, 2 and 1 rupees per kg of rice. , wheat and coarse grains.
The announcement came amid some states imposing closures to combat the pandemic, which will likely affect poor and migrant workers returning home. It will be on the lines of the Pradhan Mantri Garib Kalyan Anna Yojana (PMGKAY) launched during the first Covid wave last year.
Recently, three states (Kerala, Rajasthan and Uttarakhand) and four opposition MPs, including NCP boss Sharad pawar Y TMC Leader Saugata Roy had urged the Center to re-run PMGKAY to help the poor.
The Center has a large stock of food grains to meet the requirements. Currently, stocks of wheat and rice in the central reserve are around 69 million tonnes, almost three times the reserve requirement.
Unlike the last PMGKAY, this time the Center has not announced the distribution of one kilogram of pulses free of charge to almost 20 million beneficiary families per month, as it does not have sufficient reserve reserves of the key nutrient. Its stock is around 1.5 million tons, below the buffer standard of 2 million tons.
FacebookTwitterLinkedinE-mail