Oxygen supply increases, but hospitals may need to limit its use | India News
NEW DELHI: The
government
It may increase the supply of medical oxygen by another 11-12% to around 7,000 metric tons following restrictions on use by industry, but a further increase may be possible once imports begin to flow.
In recent days, the supply of oxygen for medical use has been significantly improved to meet the growing demand from Covid patients, although most states and hospitals are demanding more.
While oxygen for medical use made up just over a third of production at the beginning of the month, it rose to around 55% along with higher production, and was estimated to be more than 77% of production on Tuesday, according to reports. available data. with the Center.
Production has also increased to around 113% of capacity (see graph).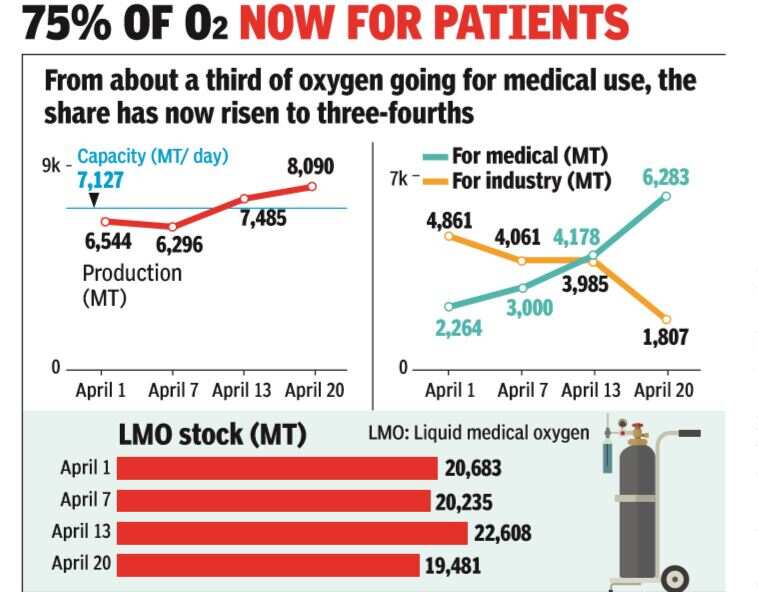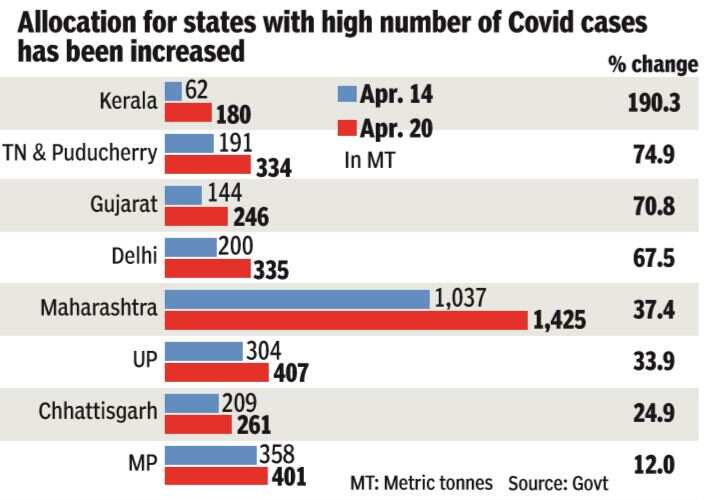 "Now that only the nine identified industrial segments will receive oxygen, there will be more supply for medical use. It may be around 7,000 MT in the next few days, "a government source told TOI.
Given current production capacity, it can be difficult to exceed current levels and as a result, supply for medical use will also need to be limited to a certain level. This will mean that hospitals will need to make better use of available resources until more supplies arrive, a challenge given the growing burden of infections and the increasing number of patients requiring respiratory support.
Earlier this week, the government had decided to limit supplies to just a handful of industries, including pharmaceuticals, nuclear power plants, steel units and oil refineries.
Following the increase in cases in several states, the allocation formula has been modified with Maharashtra, which has the highest number of cases for several weeks, obtaining the highest allocation of 1,425 metric tons per day, a jump of 37% over the previous level. The largest increase has been made in the case of Kerala, and Delhi also saw a jump of 67%.