Railways impose a fine of Rs 500 for not wearing face masks on rail premises and trains India News
NEW DELHI: In the wake of rising Covid cases across the country, Indian Railways took another step on Saturday to contain the spread of the pandemic's resurgence.
Railways said it will impose a fine of up to 500 rupees on passengers for spitting and not wearing masks on railroad facilities or during train travel.
The order would go into effect immediately for six months until further instructions are issued.
"One of the specific guidelines is to wear masks to contain the spread of the coronavirus. The Standard Operating Procedure (SOP) for the movement of trains presented by Indian Railways on May 11, 2020, says that all passengers should be recommended to use mask / mask when entering and during the trip, "said the order issued by the railways.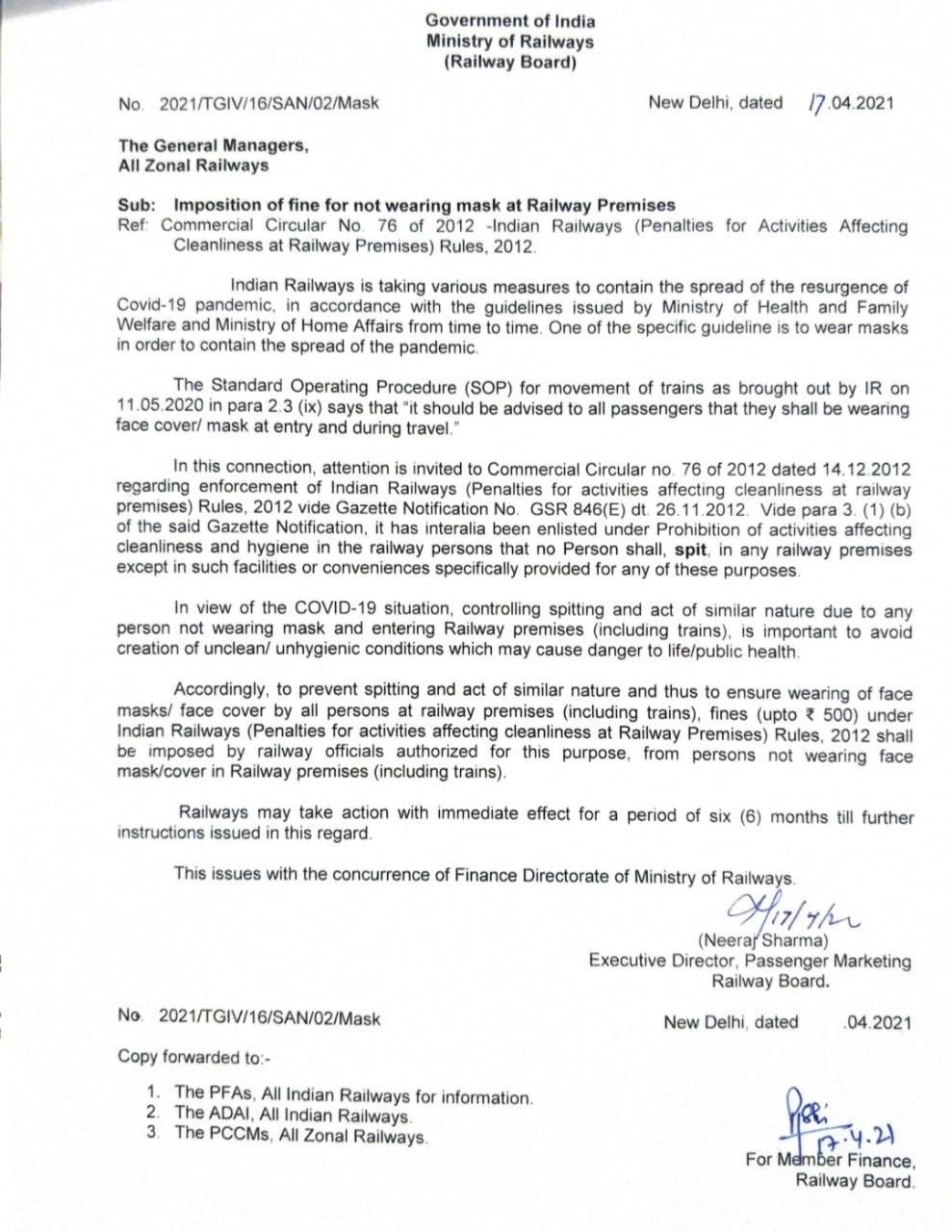 The national carrier has incorporated 'not wearing a mask' as a crime under the Railroad Law, according to an order issued today.
The mandatory wearing of masks and the fine will now be included in the Indian Railways Rules (Penalties for Activities Affecting Cleanliness at Railway Facilities) 2012, which also provides for fines for those found spitting on rail facilities, He said.
"In view of the Covid-19 situation, it is important to control spitting and acts of a similar nature because anyone who does not wear a mask and enters railway facilities (including trains), it is important to avoid creating conditions dirty and unsanitary that can cause danger to life and public health, "the order said.
"Consequently, to avoid spitting and acts of a similar nature, and therefore to ensure the use of face masks or face coverings by all persons in railway facilities (including trains), fines (up to 500) according to the Railways of India (Sanctions for activities that affect the cleaning in Railway Premises) The 2012 rules will be imposed by the railway officials … ", he said.
On Saturday, India recorded more than 2.3 lakh of Covid cases. India has been recording more than two lakh of Covid cases for three consecutive days.
The national carrier currently operates 70% of its passenger train services throughout the country.