Daily cases at 2.16 lakh, deaths at 1,184; active cases exceed 1.5 million | India News
NEW DELHI: The second wave of Covid-19 in India turned bleaker as daily infections crossed the 2 lakh mark, rising nearly 9% from the previous day's number to over 2.16 lakh on Thursday. Deaths from the virus in the past 24 hours rose to 1,184, the highest level since Sept. 18.
Meanwhile, active cases in the country topped 1.5 million (15 lakh) on Thursday. This month's unprecedented spate of infections has led to a more than 2.5-fold increase in active cases, which were less than 6 lakh on March 31. A higher active case count means a higher risk that the virus will spread faster, as well as a higher probability. of deaths.
On Thursday, a record 14 states and UT posted their highest increase in daily cases, while Maharashtra posted its second-largest increase of 61,695 cases. In total, 2,16,902 new cases were reported Thursday, according to the TOI database.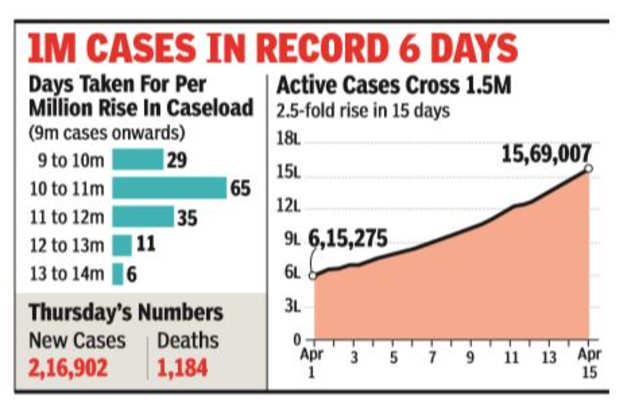 As deaths continue to rise, although still slightly lower than the tolls seen at the peak of the first wave, four states reported more than 100 deaths each in the past 24 hours. Maharashtra continued to record the highest deaths with 349, followed by Chhattisgarh (135), Delhi (112) and Uttar Pradesh (104). Deaths were also increasing in Gujarat, which recorded 81 deaths, Karnataka (66) and Madhya Pradesh (53).
Punjab's death rate, which recorded 51 deaths on Thursday, remained the highest in the country at 2.7 per 100 cases. The national death rate (or case fatality rate) stood at 1.22% and has dropped marginally during the second wave as cases skyrocket.
On Thursday, Uttar Pradesh led the states that posted a record rise in infections with a tally of 22,439. UP is the only state, other than Maharashtra, that registers more than 20,000 cases in one day. Chhattisgarh reported another new peak of 15,256 new cases. Delhi recorded 16,699 new cases, slightly below Wednesday's peak of 17,282.