Constant causal link to vaccine in 6 of 13 serious adverse events after vaccination: Government | India News
NEW DELHI: The Health Ministry has said that a "consistent causal association" with vaccination has been found in six of 13 serious adverse events after anti-Covid-19 injections, although there is insufficient evidence to show that the vaccine itself herself caused these events or even death in 10 of these cases.
The Ministry of Health report follows a detailed deliberation and assessment of adverse events after Covid vaccination on multiple levels. In previous statements, government experts had said there is no causal link, but also noted that the number of adverse events, including deaths, was within the expected range. They also said that deaths and other adverse events should be considered in light of 60 years and older and 45 to 60 years with comorbidities in age groups that have health problems.
While around 79 deaths were reported as of mid-March from people who received the Covid vaccine, different committees at the district, state and national levels have evaluated 13 serious adverse events. A special committee on adverse events after vaccination has also deliberated and evaluated the reports. The other cases are at different levels of the three-stage evaluation process.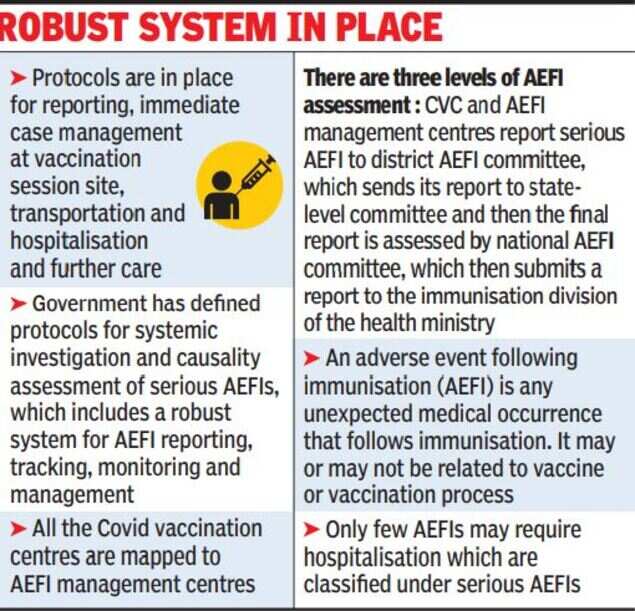 According to two separate evaluation reports (one with eight cases of adverse events and the other with five), published by the immunization department of the Ministry of Health, in six cases a "consistent causal association" with vaccination has been found, while in six other cases "An inconsistent causal association with vaccination (coincident) was found." One case was considered "unclassifiable".
"None have been found due to the vaccine," says the latest causality assessment result published by the immunization division.
The "constant causal association" with vaccination indicates the possibility of a causal link, since the adverse event occurred shortly after receiving the vaccine in three cases. Officials reiterated that Covid vaccines are safe and concerns about post-vaccination adverse events are unfounded and negligible.
"India has a strong adverse event management and surveillance system. Even anxiety or hysteria after vaccination is recorded as AEFI and still, if you look at the AEFI number, they are negligible, "said a senior official.
Of all vaccinations, so far only 0.027% of AEFIs have been reported. Of the eight deaths recently analyzed, two were reported in Maharashtra and Karnataka, and one in UP, Bihar, Telangana and MP. The age group of the deceased was between 36 and 61 years; three of them were women.
Of the total of 10 deaths evaluated by the committee, three were in category B1, indicating that "the temporal relationship is consistent but there is not enough definitive evidence for the event causing the vaccine", while six are in the category coincident described as "underlying or emerging condition (s), or conditions caused by exposure to something other than the vaccine."
Whereas in one of the three B1 cases in which a 61-year-old patient died of cardiac arrest 11 days after vaccination, it was found to be a known case of hypertension with medication. However, a 38-year-old patient with no cardiac risk factors died. He got infected two months ago.