Rahul Gandhi is a tourist politician, says Amit Shah in Wayanad | India News
NEW DELHI: Union Interior Minister Amit Shah said on Saturday that the scion of Congress is just a "tourist politician," criticizing Rahul Gandhi for moving his constituency to Wayanad after representing Amethi for 15 years.
Hinting that Rahul Gandhi is not the leader of Wayanad but a tourist, Shah said that people should not expect him to bring any development to Kerala as there was no development in Amethi even after 15 years.
"Wayanad is also the constituency of Rahul baba. He represented Amethi for 15 years. Nothing changed there. Now he has come here," Shah said.
"I have never seen a tourist politician like Rahul baba. Sometimes he will be in Amethi, sometimes in Wayanad. He is here as a tourist. Do not expect any development from his side," the union minister said.
In launching his attack on Congress, Shah said that the people are vote banks and the government is just a money bank for the party.
"The UPA government was ruling for ten years. The people voted them to power for development. Instead, they engaged in corruption and scams worth Rs 12 lakh crore," alleged Shah.
"For the Congress and the Gandhi family, the people are just a bank of votes and the government is a bank of money," said the Union minister.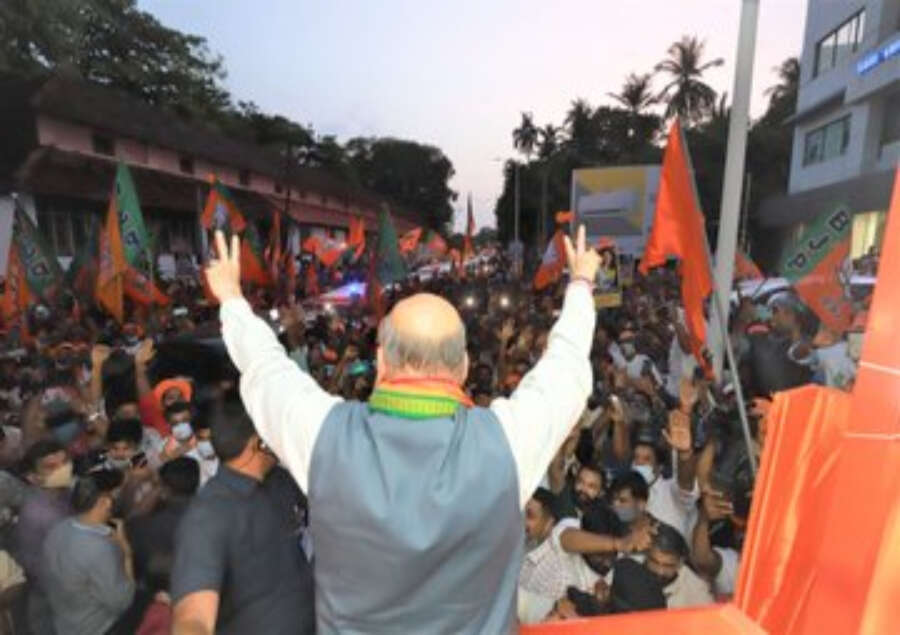 Shah, who came here from neighboring Tamil Nadu, was addressing party workers in Meenangadi in Wayanad campaigning for the BJP-NDA candidate CK Janu, a tribal leader participating in Sultan Bathery.
"If the BJP candidates are voted on, Wayanad will become the most developed district in the country," he said.
'Communists and Congress are confused'
Attacking the Communists and Congress, he said they "are confused."
He noted that in Kerala they were rivals and fight each other, while in West Bengal they are allies and embrace.
This beautiful land of Kerala has suffered greatly under the corrupt LDF and UDF governments. Anger and pain between… https://t.co/QYLOYdbi3Y

– Amit Shah (@AmitShah) 1617461901000
"I would like to ask Congress and Communists if they are doing ideology politics or power politics. Congress and Communists start with the letter 'C' and the confusion also begins with C."
"They are confused about their policies, leadership and ideology and this will not help the state in any way. They need to merge and form a new party that can be called 'Congressional Comrade Party," Shah said, weaving his speech sarcastically.
(With PTI inputs)