Rumors of Pawar-Shah Meeting Swirl Despite Denial from NCP and Raut | India News
MUMBAI: Speculation about the alleged meeting between Interior Minister Amit Shah and CPN leaders Sharad Pawar and Praful Patel in Ahmedabad continued to swirl a day after Shah cryptically said that "it is not necessary for everything to be made public", and Shiv Sena MP Sanjay Raut first confirmed the meeting. on Monday morning and later denied it and the head of the Maharashtra BJP, Chandrakant Patil, indicated that there was nothing unusual in such a meeting.
When asked about the meeting, Raut initially said: "Why worry? Can't a high-ranking deputy meet with the interior minister?" However, at 2pm on Monday, he had posted a tweet in which he categorically denied that such a secret meeting had taken place. Patil, on the other hand, said: "A meeting does not necessarily have to be to discuss politics. It can go beyond politics."
Although the NCP has denied that the meeting took place, the rumor has gained traction as it comes amid tensions in Maha Vikas Aghadi over controversies involving the state government.
Raut had in his column on Sena spokesman Saamna on Sunday calling NCP's Anil Deshmukh an "accidental interior minister," and tensions between NCP and Sena have escalated since the MVA government has been on the receiving end of the opposition attacks following an explosive-laden car outside the home of industrialist Mukesh Ambani, the murder of Thane Mansukh Hiran's businessman, the arrest of disgraced police officer Sachin Waze, and allegations of extortion and corruption made by the former head of city ​​police Param Bir Singh against Deshmukh.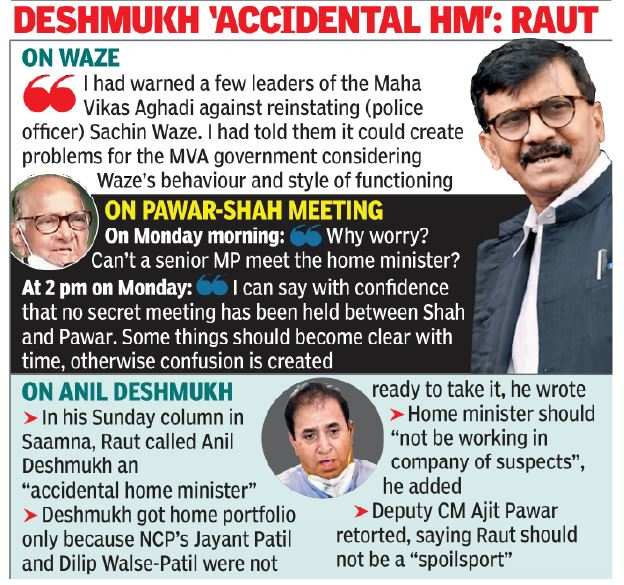 Concern over Raut's criticism of Deshmukh also deepened on Monday with Congressional and PNC leaders saying he had "exceeded his term" and Congressional Minister Balasaheb Thorat saying his party would bring the matter to the attention of the CM. Uddhav Thackeray. Raut, among other things, had written that the MVA government did not have any mechanism to control the damage and therefore faced great embarrassment after Singh alleged that Deshmukh had given Waze the target of mobilize 100 rupees every month.
Thorat, who is finance minister, said: "Raut's comments are inappropriate and in bad taste. We will discuss it with the CM."