Maharashtra positivity rate beyond its July '20 peak | India News
NEW DELHI: Maharashtra is poised to impose a new lockdown on its containment zones with the Covid-19 positivity rate, the total confirmed cases per 100 tests, doubling almost every fortnight since January 26. It has risen to 21.4% (March 14-27), well beyond its peak in July of last year.
Punjab, Goa, Madhya Pradesh and Puducherry have also entered the red zone, with infection rates ranging from 5% to 7%, with 7% being the highest in Punjab. Kerala, which has reported more than 11 lakh of cases so far, the second highest after Maharashtra, has managed to bring its positivity rate below 4% over the last 14-day period.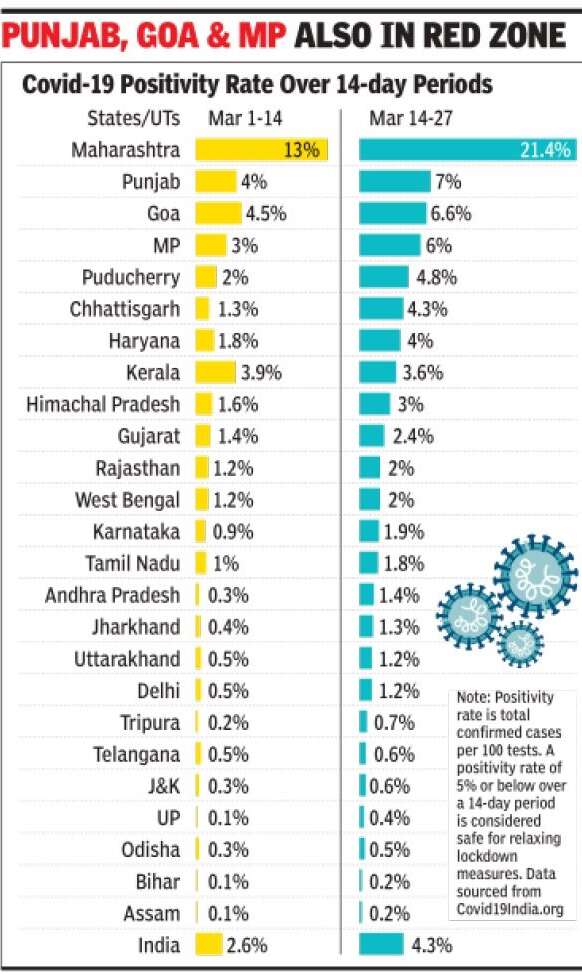 The increase in Maharashtra has been constant: from 4.7% (from January 26 to February 8) to 7.7% the following fortnight and 13% from March 1 to 14. A high positivity rate is indicative of the fact that the state is only evaluating the sickest and is not conducting enough screening, testing and isolation of patients.
According to a World Health Organization advisory, issued in May last year, governments should consider relaxing the lockdown on containment zones only if the positivity rate remains at 5% or less for at least 14 days. There are currently four states and one Union Territory that qualify for closures.
One study found that Kerala has managed to contain the spread of the virus even though a second wave severely hit the state. The positivity rate has dropped from 9% (January 26 to February 8) to 7% in the following two weeks, to 4% in the first half of March and to 3.6% (March 14 to 27).
Cases are growing rapidly in Himachal Pradesh, Gujarat, Rajasthan, Karnataka, West Bengal, Tamil Nadu, and Andhra Pradesh, among others.