On air, PM reiterates 'dawai bhi, kadai bhi' | India News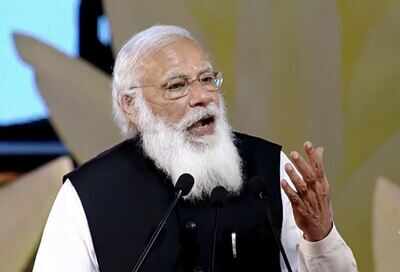 NEW DELHI: Prime Minister Narendra Modi on Sunday reiterated the message of 'dawai bhi, kadai bhi' (medicine and discipline), warning people against weakening against the coronavirus, even as he said older people opting for injections they should enthusiastically be role models for all.
Modi also spoke about the need for modernization of the agricultural sector and the tourist potential of lighthouses in the country. He said it was imperative to adopt modern practices in the agricultural sector. "In India's agricultural sector, modernization is the need of the moment. It has been delayed and we have already lost a lot of time," Modi said.
"To create new employment opportunities in agriculture, to increase farmers' incomes, it is equally important to adopt new alternatives and innovations alongside traditional agricultural practices," he added.
The prime minister again bet on beekeeping as the basis of a 'sweet revolution', saying that farmers from Darjeeling and Sundarbans to Banaskantha in Gujarat and Yamuna Nagar in Haryana have turned to beekeeping to increase their income.
"Bees farming does not generate income from honey alone, but beeswax is also a very large source of income. There is demand for beeswax everywhere in the pharmaceutical, food, textile and cosmetic industries," he said. He referred to the fact that he presented the proposal for the cultivation of bees in 2016 at the Banaskantha meeting.
On Sunday, Modi praised India's 'Nari Shakti' in sports, praising cricketer Mithali Raj and Shuttler PV Sindhu for their exploits. Raj became the first Indian woman to complete 10,000 races in all formats, while Sindhu finished runner-up at the Swiss Open earlier this month.
On the tourism front, Modi said that India was working to strengthen tourism facilities at 71 lighthouses that have been identified to develop a tourist circuit and thanked the lighthouse keepers for their efforts to carry out their duty diligently.
FacebookTwitterLinkedinE-mail